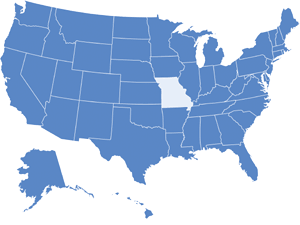 To get a license in the state of Missouri, people under the age of 18 enroll in the Graduated Driver License Program. This entails a few different levels of licensing, starting with the Learner's Permit.
Instruction Permit-Minimum Age: 15
This is the basic level of licensure, which is designed to help new drivers learn the expertise necessary to pass the road test. All driving must be conducted under the supervision of another licensed driver, such as a driving instructor, parent, or guardian. Drivers over 16 can be supervised by any licensed driver over 21.
Intermediate License-Minimum Age: 16
This level of licensure allows for most of the privileges of a full license. Driving can occur without supervision from this point on in the Graduated Driver License Program, but there are some important restrictions. For instance, Intermediate Licenses do not grant authority to drive during certain periods of the night (1-5 a.m.). For the first six months after licensure, Intermediate Licenses prohibit passengers under 19 without adult supervision, and from then on, there must be fewer than 3 passengers under 19 in the car.
Full Driver License-Minimum Age: 18
The regular driver's license lifts all restrictions from the driver, allowing all passengers and driving during all hours.
Where to Start
When you turn 15 or slightly before, read the Missouri Driver's Guide. Pay particular attention to the laws and processes that seem counterintuitive to you and be sure to memorize all the signage. You may need to re-read sections a number of times before they make sense to you.
Once you are done studying, go to the Department of Revenue office nearest you with a parent or guardian who is willing to sign a permission statement. You can find the location that is most convenient for you on the Missouri Department of Revenue Office Location webpage.
You will also need a few official documents to verify who you are, where and when you were born, your social security number, and your place of residence. A birth certificate, social security card, and a recent utility bill will suffice. Because you will need to bring these documents with you every time you come to the DOR over the next three years, it will make things easier if you keep track of where you place them after you receive the Instruction Permit.
At the DOR, you will complete three tests. The first of these is a vision test. The next two require knowledge from the Missouri Driver's Guide. One will test knowledge of signage in Missouri; the other tests laws, procedures, and rules of the road. If you pass, you will be given the Instruction Permit, beginning the Graduated Driver Program.
What You Need to Practice for the Intermediate License
In order to become eligible for the next step of the Graduated License Program, you need to complete 40 hours of driving, supervised by a single parent or instructor. You must also hold the Instruction Permit for six months before you may proceed to the Intermediate License.
When you go to the DOR, you must pass the road test in order to become licensed. It is therefore a good idea to practice all of the skills that will be on the road test during the 40 hours of supervised driving. Be sure to bring to the DOR with you the instructor or parent who supervised you. He or she will be asked to sign a form attesting to the driving instruction you have received.
As long as your license is not suspended, revoked, or denied, you will be able to apply for a full driver's license as soon as you turn 18.