Three times throughout every year, law students cram and prep for The Multi-State Professional Responsibility Examination (MPRE). This standard, mandatory exam is used to see how acquainted law students are with rules and how well they comprehend building standards for themselves in the professional practice of law, but doesn't test on their equitable values. In order to practice professionally, the law requires students to go through disciplinary and bar admission procedures.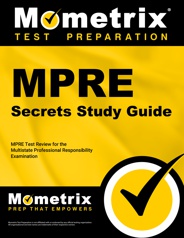 Prepare with our MPRE Study Guide. Print or eBook. Guaranteed to raise your score. Get started today!
What You Can Expect
The allotted time table for this exam is two hours. During this time, you must complete and answer 60 multiple-choice questions. Only 50 of the questions are scored, while the remaining 10 aren't because they are pretest questions. Though the pretest questions are not scored, it is advised that you answer them to the best of your ability.
There are 12 sections of the exam. Below is a list of the sections and their percentage on the exam.
Regulation of the Legal Profession: 6%-12%
The Client-Lawyer Relationship: 10%-16%
Client Confidentiality: 6%–12%
Conflicts of Interest: 12%–18%
Competence, Legal Malpractice, and Other Civil Liability: 6%–12%
Litigation and Other Forms of Advocacy: 10%–16%
Transactions and Communications with Persons Other Than Clients: 2%-8%
Different Roles of the Lawyer: 4%–10%
Safekeeping Funds and Other Property: 2%–8%
Communications About Legal Services: 4%–10%
Lawyers' Duties to the Public and the Legal System: 2%–4%
Judicial Conduct: 2%–8%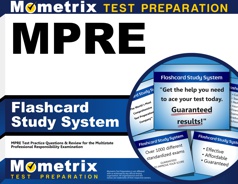 MPRE Flashcards. Proven MPRE test flashcards raise your score on the MPRE test. Guaranteed.
Registration
To register for the MPRE, you are required to have an NCBE account. That being so, the registration process must be completed through LSAC with a different MPRE account.
If you don't have an NCBE Account, sign up. Create one before starting your registration. Use the account to register online.
Simply log in to your account and click MPRE Registration. By now you'll be on the registration page and here you will select Register for the MPRE / Log in to MPRE Account. If you already have an MPRE account with LSAC, just login.
After creating and logging in to your new MPRE account, click Register for MPRE to begin your registration process to take the exam. During this time, you will be choosing your test date, which test center you would like to take the exam, and the administration you will allow to receive your final score.
A confirmation from LSAC will be sent to your email address on file when you have completed your registration process.
Registration Fees
Registration fees by the first deadline is $95; the late registration fee is $190. All fees for the MPRE exam have to be paid either by credit card or by e-check. Again, a confirmation email will be sent to you from LSAC and it will include the fees you have paid. If necessary, you have the ability to print your receipt from your MPRE account.
All of your paid registration fees are nonrefundable and are nontransferable. If for some reason you are unable to show up on your selected test day, then your registration cannot be transferred. You will have to go through the registration process again and pay another, full price, fee.
Your registration fee for the MPRE allows you to receive one score after your exams, once the score is released. This is to be kept for your own records so that you can have a score report sent to the board of bar examiners of the authorized territory chosen during your registration process.
Didn't specify an authorized district before the exam, or decided to have your MPRE score sent to several areas? Make a request then pay for your score report through MPRE Score Services, once the exams are over, said and done.
Study Tools
Need additional ways to prepare yourself for one of the most important exams you'll ever take during your college career? Mometrix.com has the devices you are looking for when it comes to cracking the whip on your studies. Check out the MPRE study guide and flash cards to give you that extra boost of knowledge before you are ready to register for your exam. Show up on test day with confidence because Mometrix Test Preparation guarantees success.
MPRE Study Guide
Explore our free MPRE review provided by Mometrix. Check out our premium MPRE study guide to take your studying to the next level. If you benefit from these materials, just click the link below! To compliment our MPRE book, we also offer extensive MPRE flashcards for even more MPRE test prep help. We hope you enjoy our products! Your purchase helps us make more great, free MPRE certification content for test-takers just like yourself.