Reading and writing are two of the foundations of education.  Educators in Massachusetts must take, and pass, the Massachusetts Tests for Educator Licensure (MTEL) Foundations of Reading (90) Exam. The test is required for any educator who needs a Massachusetts Early Childhood, Elementary, or Moderate Disabilities license.  Passing this exam shows that educators have the skills and abilities to teach students in this important area. What's on the exam? What study materials will best help you prepare to take it? This guide has the answers to these questions and more.
 What are the test fees to take the MTEL Foundations of Reading (90) Exam?
The test fee is $139.
How many questions are on the exam?
There are two open-response assignments and 100 multiple-choice questions on this computer-based test. Some of the questions are not scored.
How long do I have to complete the test?
There is a four-hour test time. Candidates also get 15 minutes for an exam tutorial.
What is the exam's passing score?
The test has a passing score of 240.
 What content areas are on the MTEL Foundations of Reading (90) Exam?
The test contains four areas.
Foundations of Reading Development. Candidates will be assessed on areas that include understanding the difference between phonological and phonemic awareness; phonological and phonemic awareness and the role in reading development; spoken and written language and the relationship between the two; phonics, including teaching strategies and phonics terminology; prefixes and suffixes recognition and their meanings; and identifying compound words and homographs.
Development of Reading Comprehension focuses on vocabulary development, including the role of noncontextual and contextual vocabulary strategies; reading comprehension skills including the ability to examine key ideas and details of text; strategies to support effective reading, like rereading and reviewing; and using various writing activities, such as note-taking, outlining, and summarizing, to promote comprehension.
Reading Assessment and Instruction includes reading development assessment; using tests to determine reading development and identify reading difficulties; determining reading level; developing reading skills and comprehension; supporting reading development; promoting reading; and the importance of closely reading material.
Integration of Knowledge and Understanding. This is the open response assignment. Candidates will be given an array of subjects involving reading development, reading comprehension, and reading assessment and instruction and asked to develop an analysis on the topic. Specific areas include alphabetic knowledge development; vocabulary development, reading comprehension, and the relationship between the two; and reading skills assessments.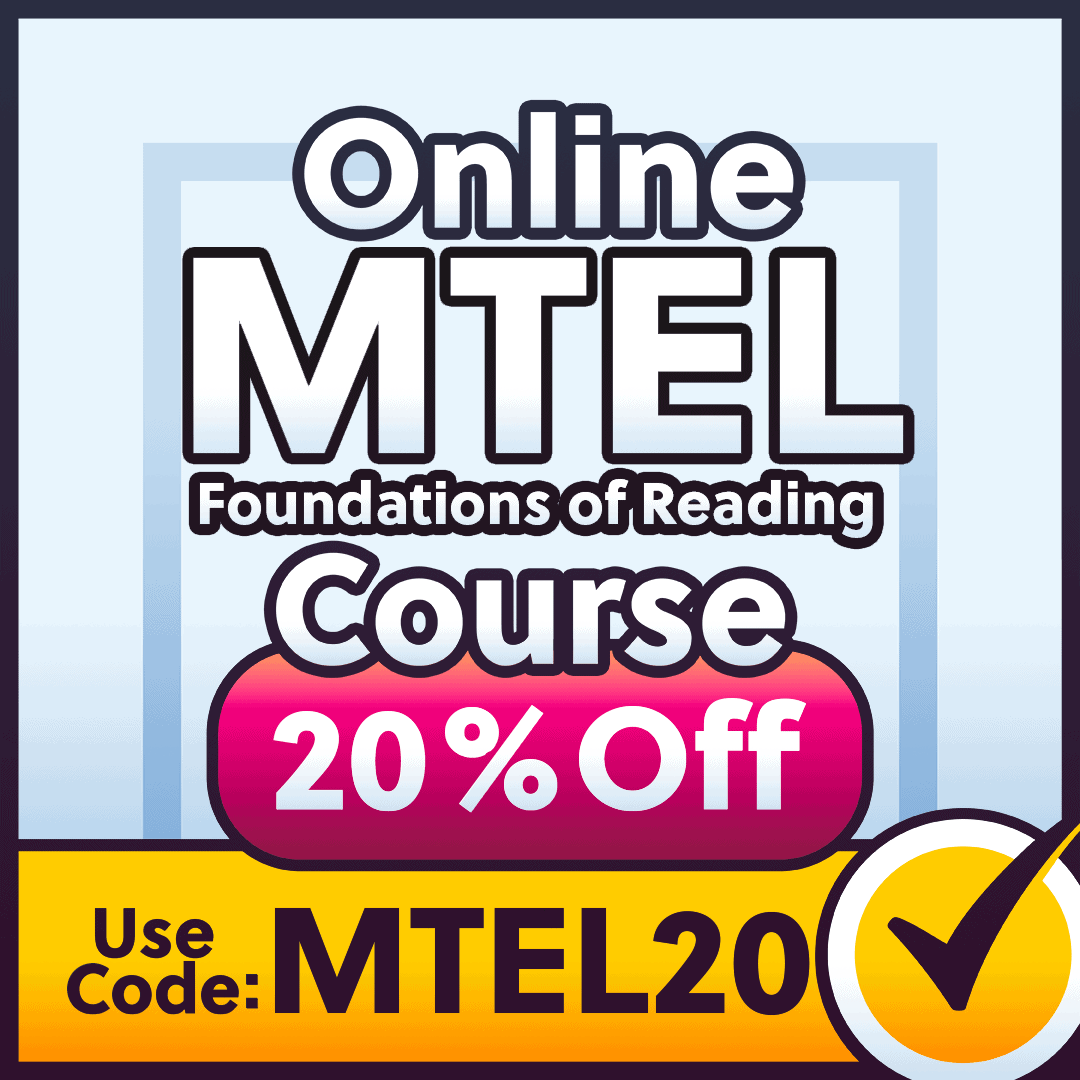 When can I take the test?
Candidates can take the exam Monday through Saturday, year-round. Testing is not available on certain holidays.
Where can I take the exam?
Candidates take the test at one of the independent test centers that deliver the exam. A list of test center locations in Massachusetts and across the United States are on the website.
When should I arrive at the test center?
Make sure to arrive at least 15 minutes prior to your scheduled test time.  Late-arriving candidates may not be able to take the test, and they would forfeit their test fees.
Will I need to bring identification on test day?
Yes. Please bring a driver's license, passport, state ID, or another form of government-issued identification that contains a photo and signature.
Can I bring personal items into the test room?
No. All personal items, including mobile phones, electronic devices, bags, coats, pens, notebooks, and large jewelry must be stored in a secure area at the test center or left in your vehicle.  
When will I receive my MTEL Foundations of Reading (90) Exam score?
Test scores are released roughly two to four weeks after candidates take the exam.
I have to pass this test. What study materials should I buy?
Mometrix has exactly what you need. Our study guide has been written by professionals in the test-taking field. Not only do you get a study plan, but our guide provides invaluable insight into tackling questions that tend to trip up those taking the test.  Our flashcards are the perfect study materials for busy people. Take them anywhere and steal a few minutes of time to refresh your memory on the concepts you need to know. These study materials are the best to help you prepare for the MTEL Foundations of Reading (90) Exam.
Online MTEL Foundations of Reading Prep Course
If you want to be fully prepared, Mometrix offers an online MTEL Foundations of Reading Prep Course. The course is designed to provide you with any and every resource you might want while studying. The Foundations of Reading Course includes:
Review Lessons Covering All the Topics
400+ Foundations of Reading Practice Questions
More than 300 Digital Flashcards
Over 40 Instructional Videos
Money-back Guarantee
Free Mobile Access
and More!
The MTEL Foundations of Reading Prep Course is designed to help any learner get everything they need to prepare for their Foundations of Reading exam; click below to check it out.