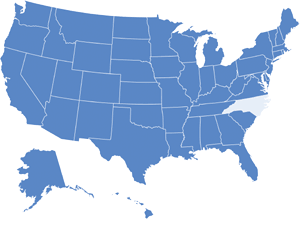 Once you turn 14 and a half, you qualify to start the educational requirements for a North Carolina Driver's License. The system is streamlined to take prospective drivers easily from step to step-from driver's education to an unrestricted license. That being said, there are still a few things everyone should know before beginning this process. This article will explain the process for people under the age of 18.
North Carolina uses a graduated licensing system. Graduated, in this case, refers to the fact that the process is made up of a few discrete steps, such as the Learner's Permit phase, the Limited Provisional License phase, and the Full Provisional License phase. Each part of the process has its own list of qualifications, activities, and restrictions placed upon it.
But before you can apply for a Learner's Permit, you need to begin by taking a driver's education course, which you can enroll in at your school. You will need a copy of your birth certificate and some free time after school. You can take the class during the school year or during the summer, if that is more convenient.
After taking the course, you will receive a Driving Eligibility Certificate. Once you turn 15, you can then take the certificate to the nearest DMV office, where you will take a vision test and a knowledge test, as well as choose your supervisor. Your supervisor must be a driver who has been licensed for five years. Usually parents or guardians choose to be their son's or daughter's supervisor, though any adult can be approved by a parent or guardian.
The DMV will issue you a Limited Learner's Permit, which will allow you to drive as long as your supervisor is in the car with you between the hours of 5 a.m. and 9 p.m.
If you can keep the Limited Learner's Permit for one year without any driving convictions on your record, you will qualify for the Limited Provisional License. This is the second step of the graduated licensing system, and it is in many ways like having a regular Driver's License, but with some limitations.
Firstly, anyone with a Limited Provisional License can drive unsupervised but only from 5a.m. to 9 p.m. Additionally, only one passenger is allowed in the car without supervision. Lastly, mobile telephones are prohibited during this period. After keeping the Limited Provisional License for six months, you qualify for a Full Provisional License, which removes the restrictions on the number of passengers your vehicle can carry in addition to the time constraints. In other words, the Full Provisional License allows you to drive with as many passengers as you like at any time of the day or night.
Final Notes and Links on North Carolina Department of Motor Vehicles
Pursuing an education is important in North Carolina! If for any reason a minor discontinues his or her education and drops out of school, then the DMV will revoke his or her driver's license.
The North Carolina Driver's Handbook can be found on the Department of Transportation website, by navigating to the Driver Handbook PDF page.
Find the most convenient Department of Motor Vehicles locations by navigating to the Contact Us & Office Locations web page on the DMV site, selecting Driver License & School Bus Offices, and following the online instructions.