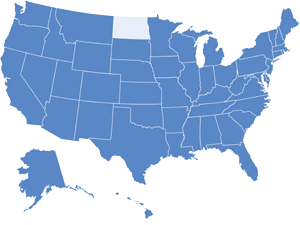 This article is written to provide the most up-to-date information regarding the procedures for minors to obtain their license in North Dakota. It is focused on those who would like to receive their licenses as early as possible with all the freedoms associated with being able to drive responsibly.
As soon as residents of North Dakota turn 14, they become eligible to begin their training for a driver's license. The first step is to go to a local Department of Transportation (DOT) Driver's License office accompanied by a parent or guardian. New drivers will also need acceptable forms of identification. Knowledge of one's social security number is necessary, as is a birth certificate or equivalent level of identification.
When you go to the DOT test site, you will be required to take an eyesight test and a knowledge test. The eyesight test will demonstrate your physical ability to see well enough to drive. If you do not pass, the test may result in certain restrictions being placed on your license. The most common of these is the requirement to wear glasses or contact lenses while driving. The knowledge test covers Rules of the Road, the DOT publication for drivers in North Dakota, as well as road signs.
If you are planning to receive your license to drive before turning 16, you will be required to take a driver's education course. Starting a course early will help you prepare for the knowledge test. If interested in starting a driver's education course, scroll down to the end of this article for a link to the various North Dakota-certified courses that are currently available to new drivers.
If successful, you will be issued a permit, which will be valid for one year. During this time period, drivers must complete all the other steps necessary for acquiring a driver's license. Here is what you need to do:
Step 1 – Finish the Driver's education class
Step 2 – Wait at least six months (Instruction Permits must be at least six months old before they can be converted to Driver's licenses)
Step 3 – Go back to the Driver's License site to take the road test (The driver education course should have prepared you for the test, but you may want to practice ahead of time some of the requisite skills that will be tested. Most people who fail the test the first time are underprepared. Driving education is not enough practice to assure passing the road test. Be sure to make an appointment before going to the DOT, and make sure that the vehicle you intend to use meets the specifications of the road test, as outlined on page 10 of Rules of the Road. See the link below.)
Step 4 – Pay the fee and get your minor's driver's license
Guides, Pages, Advice, and Links
The DOT's List of Driver Training Schools of North Dakota (Driver education can be used to fulfill licensing requirements, both for general driver training and for behind-the-wheel training)
https://www.dot.nd.gov/divisions/driverslicense/drivingschools.htm
The North Dakota Department of Transportation Drivers License Sites List (Road tests must be scheduled ahead of time by calling the intended testing site; written tests need not be scheduled; however, arrive one hour prior to noon or one hour prior to the closing times listed)