The Oklahoma Subject Assessment Tests, or OSAT tests, are a number of subject specific tests that help make up the Certification Examinations for Oklahoma Educators, or CEOE tests. These tests were made in order to ensure that the teachers of Oklahoma students are well qualified and can perform well in their duties. These tests are created, updated, and distributed by Pearson testing company.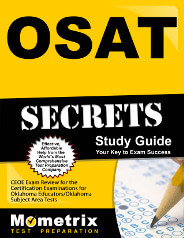 Prepare with our OSAT Study Guide and Practice Questions. Print or eBook. Guaranteed to raise your score. Get started today!
The OSAT tests cover a wide breadth of topics for all grades in the Oklahoma school system. Topics such as:
Art
Dance
Computer Science
Chemistry
English as a Second Language
English
History
Physical Science
The OSAT also covers many other specific subjects that would need to be taught in Oklahoma.
In addition to these subject tests, the OSAT tests also cover several professional positions in the Oklahoma school system. Positions such as:
Reading Specialist
School Counselor
School Psychologist
School Principal
Other tests provided by the CEOE are the Oklahoma General Education Test, or OGET, as well as the Oklahoma Professional Teaching Examinations, or OPTE tests. These tests measure general knowledge as well as specific classroom management skills.
Free OSAT Practice Test
Almost all of the tests consist of 80 multiple-choice questions in addition to 1 constructed response question. There are specific exceptions such as the language tests, but most follow this format. Most tests have a four hour time limit in which the test must be completed.
Some of the professional position tests have longer time limits, such as the Superintendent exam which has a time limit of 4 hours and 45 minutes. Test scores are set on a scale of 100 to 300. In order to pass the examination, the test-taker must attain a minimum score of 240. Those attaining this score will be considered eligible for teaching in the subject related to their test.
Those wishing to sign up for any of these exams can register via the CEOE website. In order to register, the test-taker must pay the testing fee. Testing fees are usually $80; however, the test-taker must also pay a $25 CBT fee, as well as a $30 annual one-time registration processing fee for the OGET and OSAT tests.
This program year runs from September 1st to August 31. If the test-taker is only registering for the OPTE, the program fee is not applied. Registration fees must be paid with either a Visa or MasterCard. When the test-taker registers for an exam, they have one year to take the exam. If they do not take the test within one year of registration, their registration will expire.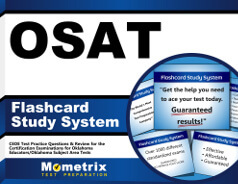 OSAT Flashcards. Proven OSAT test flashcards raise your score on the OSAT test. Guaranteed.
OSAT Study Guide
Explore our free OSAT review provided by Mometrix. Check out our premium OSAT study guide to take your studying to the next level. If you benefit from these materials, just click the link below! To compliment our OSAT book, we also offer extensive OSAT flashcards for even more OSAT test prep help. We hope you enjoy our products! Your purchase helps us make more great, free OSAT certification content for test-takers just like yourself.
Teacher Salary
The career of an elementary school teacher is one of the most honorable jobs. Everyone understands that a teacher's yearly income is not what entices people to the career, and there are other beneficial aspects of the job. Most people strive to make an impact in a child's life; it's almost like a natural pull to the job. There is an internal fire that motivates most prospective teachers to the field, and they love the back and forth communication with the students.
Most professionals report an adoration for meeting new groups of students and working in a dynamic atmosphere. Observing students learn new information and develop their skills and talents is what provides motivation for teachers. The job is difficult, and working with children with various attitudes, characteristics, learning abilities, and cultural diversity is a challenge each educator faces. In the past decade, the primary focus of our education system has become more assessment and performance driven.
The amount of work teachers have as well as standardized testing has increased. Mandated paperwork and forms have also seen an increase. Now, aside from the normal amount of grading and correcting homework, educators are required to craft education plans and write student assessments. Other challenges teachers face include large class sizes and lack of job security. And yet, teachers still find the rewards by teaching their students something new and aiding them to be prepared and have successful futures.
So, what are some factors that allow for teachers to have successful careers? The first step for any successful teacher should be to gain experience of an actual classroom setting. This can be done either by observing a teacher, substituting, student teaching, or aiding a teacher for at least a year.
For starters, find information on varied teaching careers, and have a working knowledge of your specific strengths and weaknesses. Figure out which subjects, ages, and educational settings you prefer. Determine your state's certification requirements and credentials because they vary, so confirm your tests with your state's department of education. Variations can be determined based on the grades and subjects you plan to teach.
Most states require the teacher hold a bachelor's degree; however, some states may require a master's. Occasionally, an emergency or provisional teaching license so that an understaffed school or teaching position may be filled. Once you have finished a formal education, each state requires the prospective teacher to take and pass their teacher examinations. Student teachers, who have an opportunity to intern at a school during their education programs, are able to learn about education and classroom management.
Teachers work a full-time schedule; however, increases in class time, prep time, and paperwork are causing teachers to have to do most of their work outside of the normal set of working hours. Although they are granted the occasional winter, spring, and summer breaks, most teachers take those breaks without pay and may not be able to afford day to day costs without working a second job. After a few years, teachers often choose to continue their educations to improve their jobs in a myriad of ways. Some decide to work in school management or other leadership positions.
After the completion of your formalized education, there will be an adjustment period to transfer to a professional educator. The first four years of teaching is vital. This is the time in which you are able to learn the system, how to make real lesson plans, and how to deal with students; both good and bad. Make sure to develop a group of teaching friends, who can provide ideas and advice. Teachers with experience are a great source of information.
Children often appreciate a structured environment, so it is important to establish a routine that allows them to know what to expect. Schools are often not overflowing with supplies, so it is important to know how to use the resources given to you. If the use of technology is possible and needed, use it. Try to retain a sense of humor and be capable of laughter every now and then. Often times success is found if the children are able to enjoy what they are working on, and can tell that the teacher enjoys it as well. Teachers who are able to display love and compassion are typically the most effective teachers. They are patient and are able to care for their students.