What subject could be more intuitive than Art? As an aspiring Art teacher, you're well-versed in the field and are likely an accomplished artist yourself. You know the ins and outs of the subject and the copious amounts of self-expression involved.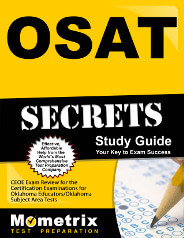 Prepare with our OSAT Study Guide and Practice Questions. Print or eBook. Guaranteed to raise your score. Get started today!
However, you also understand teaching art and making it are slightly different, the former being more complicated than the latter due to the technical aspects involved. There's a lot you'll need to know to be involved in this part of your field, which is why—if you're in the state of Oklahoma—you'll have to pass the OSAT Art exam as part of your educational training.
While it may seem counter-intuitive to have to take a standardized test to teach Art, it's required by the state of Oklahoma to ensure you possess all the necessary skills for a teaching career. It's worth noting that no one can teach in Oklahoma without first earning a passing score on this test. It's heavily important to your future career prospects, which is why you deserve to give it your all.
At Mometrix Test Preparation, we care about your success. That's why we strive to offer you only the best comprehensive resources to help you as you prepare for this test.
Our OSAT Art (002) practice test is designed to be a thorough study tool and example of what to expect from the real exam come exam day. We have conducted careful research to ensure this OSAT Art practice test is as close to the full exam as possible, allowing you to accurately gauge where your strengths lie with the test's materials and what knowledge categories you will have to brush up on.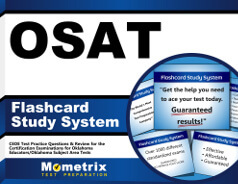 OSAT Flashcards. Proven OSAT test flashcards raise your score on the OSAT test. Guaranteed.
Like the real exam, our practice test is comprised of 81 OSAT Art practice questions. They fall under two categories, the first being "constructed-response", its sole question falling under the topic of Pedagogical Content Knowledge (15 percent).
Its other subarea, "selected-response" (85 percent), covers the following topics:
Aesthetics, Art Criticism, and Interdisciplinary Connections (15 percent)
Materials and Processes (28 percent)
Art and Culture (24 percent)
Art Elements and Design Principles (18 percent)
For the most thorough study experience possible, we recommend pairing this OSAT Art practice test with our companion study guide. Regardless of how you use it, we hope you will be able to incorporate this free tool into your study plan. Happy studying!