Compared to the other scientific disciplines, Biological Sciences is perhaps perceived as one of the easiest to teach, thanks largely to the lack of math. However, as an aspiring Biological Sciences teacher, you know this is far from the truth. You have to be just as skilled in your respective field as any other science teacher, as well as be able to present the subject in a way that appeals to your students and holds their interest.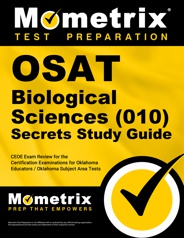 Because of the skill involved in teaching this subject, the state of Oklahoma requires you to earn a passing score on the OSAT Biological Sciences exam in order to start your professional career. This will be the final hurdle to earning your official certification.
Before you take this important exam, you'll likely want to prepare as thoroughly as you possibly can. The Mometrix Test Preparation team is here to help with our OSAT Biological Sciences (010) practice test.
We have written this test through careful research and observation of the full exam, allowing you to use this free resource to gain a comprehensive glimpse of the real thing and know what to expect come exam day.
All 81 of our OSAT Biological Sciences practice questions pull from subjects that will actually appear on the full exam. They also fall under two distinct categories.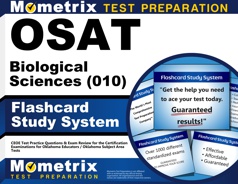 The first, "constructed-response," is an essay portion with only one question, its knowledge category being Foundations of Scientific Inquiry (15 percent).
The other answer category, "selected-response," is multiple choice. Taking up 85 percent of the test's total content, its subjects include:
Interdependence of Organisms (17 percent)
Foundations of Scientific Inquiry (9 percent)
Matter, Energy, and Organization in Organisms (21 percent)
Heredity and Biological Adaptation (21 percent)
Cell Structure and Function (17 percent)
Our OSAT Biological Sciences practice test is 100 percent free. For best results, we recommend pairing this resource with our OSAT Biological Sciences study guide.