Business is and has always been one of the most complicated subjects out there, thanks to the many nuances you have to master to be successful. If you plan to teach Business Education, you will therefore have to be well-versed in all of these nuances and know how to communicate them to your students to give them a solid foundation for their future careers.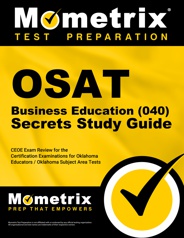 Because of this, prospective Business Education teachers in Oklahoma have one extra task standing in the way of them finally getting hands-on in the classroom: the OSAT Business Education exam.
The OSAT, also known as the Oklahoma Subject Area Tests, are given to all aspiring teachers within the state of Oklahoma. Each test splits into a specific subject, and teachers under that particular field are required to take their own respective exam to assess whether they're prepared to start working professionally.
Preparing for this exam will take only the most thorough of study tools. If you're still on the lookout for resources for this exam, our team at Mometrix Test Preparation has you covered with our OSAT Business Education (040) practice test.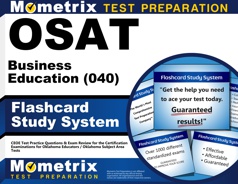 We have built this practice test to be as accurate an example of the full OSAT Business Education exam as possible, using careful research to model this study resource after the real test's content and structure.
As a result, each of our OSAT Business Education practice questions deals with a subject you can expect to see on the full test. There are 81 questions total, splitting into two answer categories.
"Constructed-response," an essay portion, is the first. It features only one question, under the Business Management (15 percent) subarea.
The other 85 percent of the exam falls under the "selected-response" answer category, which consists entirely of multiple choice questions. Its subareas include:
Economics and Finance (17 percent)
Business Management (10 percent)
Business Technology and Information Systems (24 percent)
Marketing, Customer Service, and Entrepreneurship (17 percent)
Accounting (17 percent)
We hope our free OSAT Business Education practice test will help you as you prepare for this exam. Should you find you need more thorough tools, you can also turn to our OSAT Business Education study guide, which is designed for use in conjunction with our practice test. Happy studying!