Earth Science is a fascinating subject all on its own, but an excellent Earth Science educator can truly make the subject come alive! This kind of teacher, who motivates and fosters love of the subject in their students, is what almost every educator strives to be.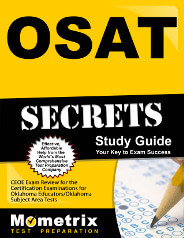 Prepare with our OSAT Study Guide and Practice Questions. Print or eBook. Guaranteed to raise your score. Get started today!
As an aspiring Earth Science teacher, you realize it takes far more than passion to be an excellent teacher. You also need to master a wide array of skills, which can only be learned through educational training and—if you live in the state of Oklahoma—proven by passing the OSAT exam.
The OSAT features individual exams for almost every field of study an educator could hope to teach. In your case, this would be the OSAT Earth Science exam. Like each OSAT exam, this particular test will evaluate your competency and knowledge of each of the subjects you'll need to know to teach Earth Science.
If you want to perform well on this exam, you'll need only the best and most comprehensive resource. This is where our team at Mometrix Test Preparation comes in. We've composed an OSAT Earth Science (008) practice test for you to use as you study, free of charge.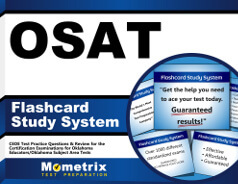 OSAT Flashcards. Proven OSAT test flashcards raise your score on the OSAT test. Guaranteed.
It is designed to mirror the formatting and content of the real OSAT Earth Science exam, and is ideal if you're looking to familiarize yourself with the full exam well before exam day.
This practice test contains 81 OSAT Earth Science practice questions, which fall under two distinct answer categories. The first, known as "constructed-response," amounts to an essay question. Its sole subject, Foundations of Scientific Inquiry, takes up a mere 15 percent of the exam.
The "selected-response" category fills the remaining 85 percent, and includes such subjects as:
Water Systems (12 percent)
Foundations of Scientific Inquiry (13 percent)
Geological Systems (16 percent)
Atmospheric Systems (24 percent)
Space Systems (20 percent)
We encourage you to make use of this OSAT Earth Science practice test as often as you need while you study. It can be used either standalone or in conjunction with our OSAT Earth Science study guide. No matter which resource you choose, we hope it will serve you well and help you to earn an excellent score on this important exam. Good luck, and study hard!