It's true that teachers are the lifeblood of any educational facility, but no school can run successfully without the guidance of a competent and passionate principal steering the reins. As such, this important career path requires quite a lot of training, something you've spent the past few years receiving as an aspiring elementary school principal.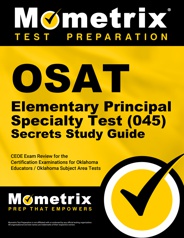 Anyone planning on working in the state of Oklahoma will not only have to fulfill regular educational requirements, but also pass the OSAT Elementary Principal Comprehensive Assessment. Like every other OSAT exam, the Elementary Principal Comprehensive Assessment is designed to evaluate your preparedness for a career as an elementary school principal.
Earning the passing score you need will naturally require some preparation. To help you as you progress toward your career, the Mometrix Test Preparation team has composed an OSAT Elementary Principal Comprehensive Assessment (045) practice test. On this practice test, you can expect to find a thorough example of what to expect from the full exam.
This resource is best utilized not just for familiarizing yourself with the exam's contents, but getting to know your strengths and weaknesses with each subject related to your field so you can lessen your chances of being caught off guard with the real thing.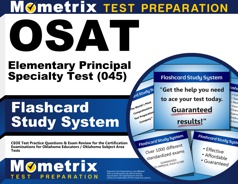 Like the full exam, our practice test features 52 OSAT Elementary Principal Comprehensive Assessment practice questions, which split into two answer categories.
The first, known as "constructed-response," is comprised of two essay questions that take up 30 percent of the test's contents. Its sole subject is Educational Leadership.
The other section, "selected-response," accounts for the other 70 percent of the exam. Its subjects include:
Educational Contexts, Stakeholder Relationships, and Legal/Ethical Guidelines (18 percent)
Visionary Leadership and Culture of Learning (17 percent)
Organizational, Operational, and Resource Management (17 percent)
Instructional Leadership and Professional Development (18 percent)
Our OSAT Elementary Principal Comprehensive Assessment practice test works well when used standalone or alongside our companion study guide. We hope it will serve you well and help you to earn an excellent score on your upcoming exam. Good luck and study hard!