As anyone who works closely with children knows, there are two major elements that impact the development of today's youth: the media surrounding them, and their individual familial environments. To understand a child, you will have to also understand these two important factors and how they come to shape a child's life. This is the job of a Family and Consumer Sciences specialist.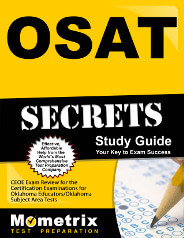 Prepare with our OSAT Study Guide and Practice Questions. Print or eBook. Guaranteed to raise your score. Get started today!
Through your work, you will give other educational professionals the opportunity to better understand how to approach their students and foster stronger teaching and learning. At this point in your education, you've likely spent quite a few intensive hours learning and mastering the material.
Now you will have to prove your mastery through the OSAT Family and Consumer Sciences exam. Like the rest of the OSAT, this particular exam is designed to assess how ready you are to become a professional in the Family and Consumer Sciences industry.
The Mometrix Test Preparation team understands just as well as you how important this exam is to your future career goals. To help ensure your success, we want to offer you our OSAT Family and Consumer Sciences (009) practice test.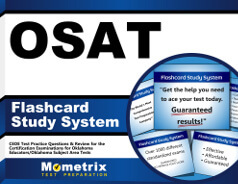 OSAT Flashcards. Proven OSAT test flashcards raise your score on the OSAT test. Guaranteed.
Designed with thoroughness in mind, we guarantee this free study tool will give you a comprehensive glimpse of the test's contents, allowing you to fully evaluate your strengths and weaknesses and figure out the best way to prepare.
Our practice test includes 81 OSAT Family and Consumer Sciences practice questions. One of them falls under the "constructed-response" answer category, which basically amounts to an essay response question and takes up a mere 15 percent of exam. Its sole subject is Pedagogical Content Knowledge.
The other 80 questions are multiple choice, or "selected-response," and account for the remaining 85 percent of the exam. Its subjects consist of:
Career and Leadership Skills (13 percent)
Human Development (13 percent)
Interpersonal and Family Relationships (12 percent)
Food Science, Nutrition, and Wellness (13 percent)
Hospitality, Tourism, and Recreation (11 percent)
Apparel, Textiles, Housing, and Interior Design (11 percent)
Consumer Economics and Personal Resource Management (12 percent)
Our OSAT Family and Consumer Sciences practice test works well whether used standalone or alongside our companion study guide. We hope you will be able to incorporate this resource into your study plan. Good luck!