It is widely known and accepted that gifted students have slightly different educational needs than others. Gifted students are often not challenged nearly enough by the learning material typically provided during normal class hours, which is why they depend on Talented and Gifted programs—or higher-level curriculum in general—to provide them with the stimulation they need and crave.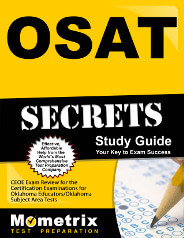 Prepare with our OSAT Study Guide and Practice Questions. Print or eBook. Guaranteed to raise your score. Get started today!
As a future Gifted Education teacher, this task will soon fall to you. However, before you can get hands-on in the classroom, you first need to prove yourself capable of meeting your students' educational needs. To do this, one of your final requirements involves earning a passing score on the OSAT Gifted Education exam.
The OSAT in general is an exam divided by multiple subjects, all of which are designed to assess the knowledge of today's incoming Oklahoman teachers with respect to their field and the skills they'll need as a professional.
The idea of taking this exam may be daunting. However, with the help of the team at Mometrix Test Preparation, you have nothing to fear! We want to present you with our OSAT Gifted Education (083) practice test.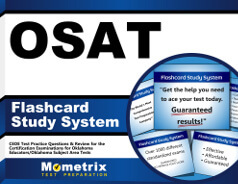 OSAT Flashcards. Proven OSAT test flashcards raise your score on the OSAT test. Guaranteed.
This resource is designed to be both an accurate and comprehensive tool, which will not only give you a preview of the full exam's contents, but also help you to evaluate your own strengths and weaknesses so you are better prepared when exam day arrives.
Like the real exam, our practice test contains 81 OSAT Gifted Education practice questions. One question features under the "constructed-response" category, which takes up 15 percent of the exam and focuses on only one subject: Learning Environments and Instruction.
The remaining 85 percent of the exam requires "selected-response" answers, and consists of the following subjects:
Professional Practice and Collaboration (17 percent)
Foundations of Gifted Education (17 percent)
Learning Environments and Instruction (30 percent)
Assessment and Instructional Planning (21 percent)
While our OSAT Gifted Education practice test is quite effective on its own, we encourage you to use it in conjunction with our companion study guide for best results. Regardless of how you use it, we hope you will be able to incorporate it into your study plan and that it will serve you well as you prepare for this important exam. At Mometrix Test Preparation, we strive to provide you with only the best possible resources. Good luck and work hard!