The idea of having to take a standardized test just to teach General Music may sound bizarre, at first—especially to the untrained. However, as a prospective General Music teacher, you know well the amount of skill required to educate your students, not just on a technical level but a scholarly level.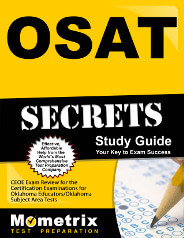 Prepare with our OSAT Study Guide and Practice Questions. Print or eBook. Guaranteed to raise your score. Get started today!
Playing music is hard enough on its own, but teaching it is a different animal—one that requires not only years of training to handle, but one other task. If you plan to teach in the state of Oklahoma, you'll also have to take and pass the OSAT Instrumental/General Music exam.
If you're in the market for study resources as you prepare for this exam, consider Mometrix Test Preparation's carefully researched OSAT Instrumental/General Music (001) practice test. We have devoted close attention to the full OSAT exam to provide you with the most accurate practice test available.
Each of our 81 OSAT Instrumental/General Music practice questions pertains to one of the subjects you can expect to find come exam day, and split into two distinct answer categories.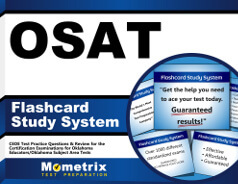 OSAT Flashcards. Proven OSAT test flashcards raise your score on the OSAT test. Guaranteed.
One of them, the "constructed-response" answer category, takes up only 15 percent of the exam with its sole subject: Instrumental Performance and Music Methodology.
The "selected-response" answer category accounts for the other 85 percent of the exam. Its subjects include:
Music History and Culture (17 percent)
Listening Skills (28 percent)
Music Theory and Composition (24 percent)
Instrumental Performance and Music Methodology (16 percent)
Our OSAT Instrumental/General Music practice test is best utilized for familiarizing yourself with exam contents. We encourage you to use this 100 percent free study tool to not only get a sense of how the exam works, but to gauge your own strengths and weaknesses so you know how to move forward as you study.
For best results, consider pairing this practice test with our OSAT Instrumental/General Music study guide. Work hard and good luck!