The library is and has always been a highly useful resource for academics across the globe. However, they can't operate autonomously. For every person that has found an incredible piece of research material is a library media specialist who helped to guide them on the right path to finding the information they needed.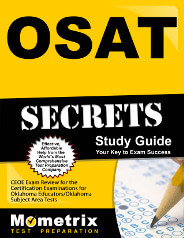 Prepare with our OSAT Study Guide and Practice Questions. Print or eBook. Guaranteed to raise your score. Get started today!
If you're studying to become a library media specialist in the state of Oklahoma, then this type of academic savior could one day be you.
Before you can get to work in the library, however, there is one last task you'll have to complete as part of your training: earning a passing score on the OSAT Library-Media Specialist exam.
By scoring well on this particular test, you will thereby prove you've mastered all the relevant skills for your career and can finally enter your field as a professional. Since it will be your job to someday offer the best resources to others, the Mometrix Test Preparation team would like to, in turn, offer one of the best study tools to you.
We present to you our OSAT Library-Media Specialist (038) practice test. Through careful research, we have ensured this practice test is not only accurate to the real thing, but comprehensive enough to allow you to thoroughly familiarize yourself and get to know your strengths and weaknesses with the material in advance, allowing you the chance to jump well ahead of the curve before exam day.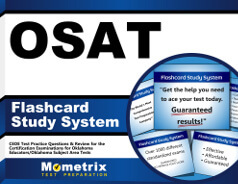 OSAT Flashcards. Proven OSAT test flashcards raise your score on the OSAT test. Guaranteed.
The test features a total of 81 OSAT Library-Media Specialist questions. One of them is an essay (or "constructed-response") question, which covers 15 percent of the test and focuses on one subject: Information Literacy and Inquiry Skills.
The remaining 85 percent of the exam is multiple choice, or "selected-response," and covers such relevant subjects as:
Program Administration (16 percent)
The School Library Program (25 percent)
Information Literacy and Inquiry Skills (22 percent)
School Library Resources and Collections (22 percent)
We hope you will be able to incorporate our 100 percent free OSAT Library-Media Specialist practice test into your study plan. This resource can be used either standalone or alongside our companion OSAT Library-Media Specialist study guide. Feel free to utilize however you need, as much as you need while you prepare for this important exam. Good luck!