Teaching English at the middle school level certainly comes with its own unique challenges. Students within this age range are grappling with all sorts of changes, both biological and social, and it is up to all middle school teachers to help them navigate these changes as healthily as possible.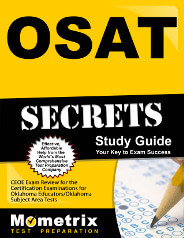 Prepare with our OSAT Study Guide and Practice Questions. Print or eBook. Guaranteed to raise your score. Get started today!
At the same time, you will also have to deal with helping them learn new concepts with respect to writing and expressing ideas—already a hard task within itself.
To ensure you're able to do your job well, the state of Oklahoma requires all incoming Middle English teachers to earn a passing score on the OSAT Middle English exam.
By scoring well on this exam, you will prove you have both the knowledge and skill necessary to meet your students' educational needs.
While the idea of such an important test may prove daunting, the Mometrix Test Preparation team is here to help you through it. How? For starters, we've composed a comprehensive OSAT Middle English (024) practice test. We've crafted this free study tool through ample amounts of careful research and observation of the real exam.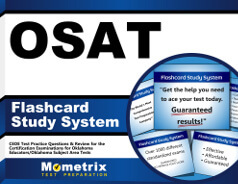 OSAT Flashcards. Proven OSAT test flashcards raise your score on the OSAT test. Guaranteed.
This ensures our practice test is not only accurate, but a great way of familiarizing yourself with the exam well before exam day actually arrives. We recommend this resource for anyone interested in learning their own strengths and weaknesses with the material.
The test features a total of 81 OSAT Middle English (Test #24) questions. One is an essay ("constructed-response") question, which takes up 15 percent of the exam content and centers on one subject: Literature and Language.
The remaining 85 percent of the exam is devoted to multiple choice ("selected-response") questions, which cover such subjects as:
Literature and Language (12 percent)
Oral and Visual Communication (17 percent)
Reading Process and Comprehension (26 percent)
Writing Process and Applications (30 percent)
For best results, we recommend pairing this OSAT Middle English practice test with our companion study guide. Good luck and study hard!