Just as with elementary level Social Studies, middle level Social Studies takes well-rounded knowledge of every discipline to teach well. However, middle school Social Studies teachers also have to take their students' unique needs in mind. At this age, middle school students endure a multitude of social, physical, and emotional changes—all of which can be hard and confusing to grapple with.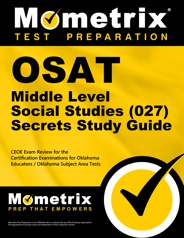 It is the additional job of a middle school teacher, no matter their subject, to help guide their students through this new transition. This task comes on top of teaching regular Social Studies curriculum, which must be done in a way that retains your students' attention while also fostering strong learning.
To ensure you're able to meet your students' needs as thoroughly as possible, the state of Oklahoma requires that all incoming middle school Social Studies teachers take and pass the OSAT Middle Level Social Studies test. This exam will assess how much you know as far as classroom management and your respective field. As such, this is the final goalpost to starting your professional career.
At Mometrix Test Preparation, we understand how important this exam is to your career goals just as well as you do. That's why, to help you earn the best possible score, we've composed our OSAT Middle Level Social Studies (027) practice test. We have designed this free resource completely with your needs in mind.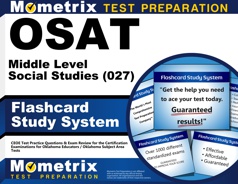 One of the most important ways to study is through familiarization of the material. Our practice test serves as a comprehensive mirror of the real test material, allowing you to not only learn what to expect on exam day, but gain a sense of your strengths and weaknesses and how to proceed with your studying.
The exam features a total of 81 OSAT Middle Level Social Studies questions. One of them falls under the "constructed-response" (or essay) answer category. Cover just 15 percent of the exam's total content, this single "constructed-response" question covers the topic of World, U.S., and Oklahoma History.
The remaining 85 percent of the test is multiple choice (or "selected-response"), and deals with such relevant subjects as:
Research Skills (16 percent)
World, U.S., and Oklahoma History (37 percent)
Geography and Culture (16 percent)
Government and Economics (16 percent)
We hope our OSAT Middle Level Social Studies practice test will fit well into your study plan. For best results, we recommend using this free tool alongside our corresponding study guide. Good luck!