Becoming a teacher isn't and has never been an easy task—especially if you live in the state of Oklahoma. No matter what grade level you choose, you have a challenging (but altogether rewarding) career path ahead of you.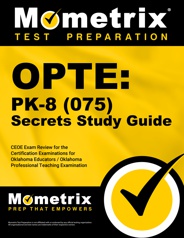 Prepare with our OPTE Study Guide and Practice Questions. Print or eBook. Guaranteed to raise your score. Get started today!
Pre-K through 8th grade education, however, presents its own unique set of challenges you won't find at any other grade level. This is because you will essentially be responsible for shaping today's youth while they're navigating their formative years. You'll have to know exactly how to interact with them in the most effective ways possible, both as an educator and a guide.
To prove yourself capable as a prospective Pre-K through 8th grade educator, you'll first have to earn a passing score on the OPTE: PK-8 exam. Designed to evaluate the skills of incoming teachers, the OPTE: PK-8 exam, in particular, deals with the capabilities and knowledge you'll need to cater to students of those specific grade levels. It is the early education counterpart to 6-12, which has its own separate exam. You cannot embark upon your teaching career without first scoring well on this test.
At Mometrix Test Preparation, we care about your success. This is why we strive to offer you only the best possible study tools. If you're facing the OPTE: PK-8 exam in the near future, we present to you our 100 percent free OPTE: PK–8 (075) practice test.
We have composed this resource through careful observation of the real exam's formatting, structure, and content. As a result, our OPTE: PK–8 practice questions will loosely resemble questions you can find on the full test.
The OPTE: PK–8 test splits the 78 questions into two subareas, each of which blanket three more specific subjects. The first is known as "constructed-response," which features three essay questions and covers 30 percent of the exam. Its subjects are: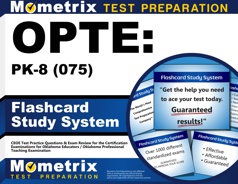 OPTE Flashcards. Proven OPTE test flashcards raise your score on the OPTE test. Guaranteed.
Professional Environment (10 percent)
Instructional Practice (10 percent)
Learners and Learning (10 percent)
The second subarea is "selected-response," a multiple choice category that takes up 70 percent of the test. Its subjects also include:
Professional Environment (18 percent)
Instructional Practice (28 percent)
Learners and Learning (24 percent)
We hope you'll be able to take advantage of this resource as you study for this important exam. Feel free to pair it with our companion OPTE: PK-8 study guide!