There are few disciplines that are older or more prominent than Psychology and Sociology. In fact, the sheer longevity of this particular science means there is a lot of material prospective educators must not only understand, but be able to teach in an effective and comprehensive manner.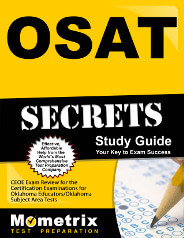 Prepare with our OSAT Study Guide and Practice Questions. Print or eBook. Guaranteed to raise your score. Get started today!
The state of Oklahoma recognizes the importance of Psychology/Sociology teachers in terms of their ability to train future professionals in a variety of fields. To help ensure you're ready to take on this vital job, the state requires that you earn a passing score on the OSAT Psychology/Sociology exam.
You may be wondering how to go about preparing for such an important final step. Our team at Mometrix Test Preparation is here to help you through the process by way of our free OSAT Psychology/Sociology (032) practice test.
This practice test is designed to serve as an accurate mirror of the real exam, giving you the chance to preemptively know what to expect, as well as tailor your study approach around your own strengths and weaknesses.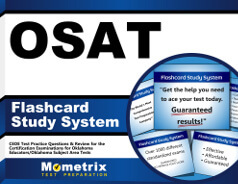 OSAT Flashcards. Proven OSAT test flashcards raise your score on the OSAT test. Guaranteed.
Just like with the real exam, our practice exam features 81 OSAT Psychology/Sociology practice questions. One question requires an essay ("constructed-response") answer, while the rest are multiple choice ("selected-response").
The essay portion of the exam centers on only one subject—Individual Development, Conflict and Adjustment, and Social Psychology—and accounts for 15 percent of the test.
The other 85 percent of the test falls under the multiple-choice category, and is devoted to three subjects:
Sociology (40 percent)
Individual Development, Conflict and Adjustment, and Social Psychology (13 percent)
Foundations of Psychology (32 percent)
While our OSAT Psychology/Sociology practice test is effective on its own, we encourage you to boost your chances of success further by making use of our matching OSAT Psychology/Sociology study guide. We hope these tools will become an essential part of your study plan. Good luck!