There are few jobs more important to the educational world than that of a superintendent. By taking up this career, you place yourself as the head of an entire school district. Hundreds and thousands of schools lie under your jurisdiction, counting on you for direction in terms of how to best educate their students and prepare them for the next educational level as well as the real world.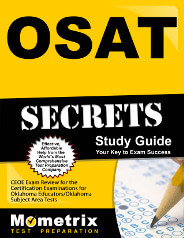 Prepare with our OSAT Study Guide and Practice Questions. Print or eBook. Guaranteed to raise your score. Get started today!
With such a significant job ahead of you, there needs to be a definitive way to ensure you are properly trained. In the state of Oklahoma, the answer to this question comes in the form of a passing score on the OSAT Superintendent exam.
The OSAT is and has never been restricted to superintendents alone, however. Each and every educational professional within the state is required to take this exam for their specific field. By doing so, you prove you have the knowledge and skill necessary to start your career.
At Mometrix Test Preparation, we understand as well as you do how important this exam is to your future career goals. We care about your success. That's why, to help you prepare to the best of your ability, we've put together an OSAT Superintendent (148) practice test. This resource is ideal for familiarizing yourself with the real test's format and materials.
The full exam contains 82 OSAT Superintendent questions. 30 percent of the exam requires an essay response ("constructed-response"). The remaining 70 percent of test content is multiple choice ("selected-response").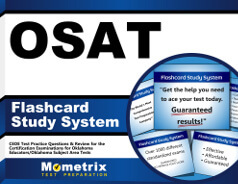 OSAT Flashcards. Proven OSAT test flashcards raise your score on the OSAT test. Guaranteed.
The "constructed-response" answer category features two questions, which correspond to two categories: Organizational Management (15 percent) and Strategic Leadership (15 percent).
The "selected-response" portion is more broad, covering such important subjects as:
Educational Contexts, Stakeholder Relationships, and Legal/Ethical Guidelines (18 percent)
Visionary Leadership and Culture of Learning (17 percent)
Organizational, Operational, and Resource Management (17 percent)
Instructional Leadership and Professional Development (18 percent)
We hope our OSAT Superintendent practice test will serve you well as you prepare for the exam. For a more thorough study experience, consider using this resource in conjunction with our corresponding OSAT Superintendent study guide. Good luck, and happy studying!