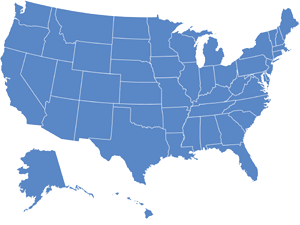 Getting a license in Rhode Island is a simple, straightforward process. This page makes that process even easier by providing all the necessary links, as well as the information that every new driver will need in order to obtain an unrestricted license in Rhode Island. It is a one-stop information shop for anyone who is a resident of Rhode Island, under 18, and desirous of driving privileges.
Overview
The process starts with the Limited Instruction Permit, which becomes available at 16. Once you have the Limited Instruction Permit, you are able to drive under the supervision of an adult. After that, new drivers are expected to complete the driver-training requirements.
These include 40 hours of driving during the day and 10 hours of night driving. After six months with the Limited Instruction Permit, you are eligible to apply for a Limited Provisional License. If you pass all the requirements and tests, then you will be issued a License allowing unsupervised driving from 5 a.m. to 1 a.m. For the first year after receiving the license, your passengers are limited to 1, if he or she is under 21. The full Operator's License becomes available at 17.5 years old, as long as the Limited Provisional License has been held, without moving violations or safety belt infractions, for 1 full year.
Planning Your Permit/License Applications and Tests
Now that you know generally what the process is and when you become available for the various steps, you are ready for some of the more administrative requirements of each step.
For example, in order to obtain a Limited Instruction Permit, first you will need to pass a 33-hour driver education class. You can begin these classes after you are 15 years and 10 months old, in order to have time to finish the course before your 16th birthday.
After you have completed the course, you can schedule your Instruction Permit application. You will need your certificate of driver's education completion, a parent, as well as identifying documentation. You will be able to find the documents necessary, such as birth certificate, social security card, and so on, on the second page of The Rhode Island Division of Motor Vehicles' Application for License/Identification Card/Permit.
Then you will need to take the knowledge exam. The knowledge exam is available only at the Cranston Division of Motor Vehicles. The test is available from 8:30 a.m. until 3:00 p.m., 15 minutes prior to closing time. The Cranston office, which is the headquarters of the DMV, is located at 600 New London Avenue, Cranston, RI 02920. The Limited Instruction Permit costs $11.50, and payments must be made in cash, check, or money order.
Six months after receiving the instructional permit, once you have completed the driver-training requirement, you will be eligible for your Limited Provisional License. You will need to pass the road test in order to receive the license. This can be accomplished at one of two test sites.
Road Test Sites
There are only two road test sites in Rhode Island. Their addresses are provided below, along with contact information. Call ahead to schedule the best times to come.
Road test site 1: 325 Melrose St., Providence, RI 02907, from 8:30 a.m. to 3:00 p.m. (401) 462-5750 
Road test site 2: 999 West Main Road, Middletown, RI 02842, from 8:30 a.m. to 3:30 p.m. (401) 846-5451 
If you have any additional questions about the road test, please consult The Rhode Island Division of Motor Vehicles' Road Test Information Webpage. 
For all other inquiries, either call a Division of Motor Vehicles Location, or consult the Rhode Island Driver's Manual.