The Series 79 exam is called the Investment Banking Representative Qualification Examination, and the intent is to determine the competencies of an individual wanting to begin a career as an entry-level investment banker. This test was formulated based on observation and data collection of investment bankers in the field.
Interviews and surveys were conducted and compiled under the guidance of the Financial Industry Regulatory Authority (FINRA). FINRA created the exam to protect the public when seeking investment advice. It is the responsibility of the investment banker to stay current with industry trends and regulations, policies, and legislations. A person who violates his or her responsibility to the public may be subject to disciplinary actions, including fines, suspensions, or permanent loss of registration.
From this data collection conducted by FINRA, four major functions were found to be the responsibilities of entry-level investment bankers. Under each function, major tasks were identified that were required to be performed. A committee then determined the number of test questions and relevancy to the job based on the time spent performing the tasks. The Series 79 exam tests the competencies of an individual in work-related scenarios.

Prepare with our Series 79 Study Guide and Practice Questions. Print or eBook. Guaranteed to raise your score. Get started today!
Questions on the Series 79 test l vary by complexity, some requiring financial metrics and calculations, while other questions are based around the rules and regulations in the investment banking industry. As investment banking rules and regulations change, questions are added to the testing databases within a reasonable amount of time. Those questions that are outdated are removed from the test bank of questions.
The Series 79 exam consists of 175 multiple-choice questions and is segmented into three categories. The first category has seventy-five questions concerning collection, analysis, and evaluation of data. The second category is forty-three questions on underwriting and new financing transactions, offering types, and registration securities.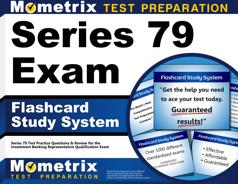 Series 79 Flashcards. Proven Series 79 test flashcards raise your score on the Series 79 test. Guaranteed.
The third category consists of thirty-four questions on mergers and acquisitions, tender offers, and financial restructuring transactions. Finally, the fourth category has twenty-three questions on general security industry regulations. Each question is worth one point with only one correct answer.
Sponsorship by a member firm is required in order to take the Series 79 exam. The member firm files a U-4 Form, Uniform Application for Securities Industry Registration or Transfer in the Central Registration Depository (CRD).
According to Payscale.com, the average salary for investment banking analyst is between $40,000 and $71,000 annually. The salary for investment bankers is between $56,000 and $91,000 a year. The highest salaries were found in New York, and Boston, Massachusetts, was the second-most popular city. Males dominated the investment banking, with 76% in the field.