The Financial Industry Regulatory Authority (FINRA) puts out the Series 7 exam. The exam has 260 questions in total. 125 for each part and 10 pre-test questions that do not count towards the exam grade and are not indicated in the exam. A passing score is 70%. The questions are in multiple choice format.
As the stock market boom ended, more people began trading commodities and futures contracts, and the industry continues to experience steady growth. As companies expand, there's a lot of room for career advancement for commodities traders, including managing branch offices.

Prepare with our Series 30 Exam Study Guide and Practice Questions. Print or eBook. Guaranteed to raise your score. Get started today!
To qualify to become a branch manager of a futures trading firm, you'll need to pass the Series 30 Branch Manager Futures exam-it's a requirement of the National Futures Association, the main governing board over the futures industry.
Although the Series 30 exam is required by the NFA, it's actually administered by the Financial Industry Regulatory Authority (FINRA), which means you can take the test at a convenient location at one of many authorized testing centers all over the country.
In most places it's offered six days a week, Sunday being the exception, and the cost is $60. The Series 30 test is one hour long, and consists of 50 multiple choice questions, and you'll need to answer 70% correctly in order to pass. 50 multiple choice questions may not sound difficult, but you'll need a lot of knowledge to do well on the Series 30.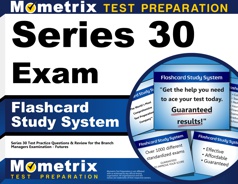 Series 30 Exam Flashcards. Proven flashcards raise test scores on the Series 30 exam. Guaranteed.
You'll need to master a wide range of subjects relating to futures trading- the laws and regulations governing commodity pool operators and commodity trading advisors, solicitation rules, account handling procedures, employee rules and ethics, NFA regulations, record keeping, disciplinary procedures, order entry rules, risk disclosure requirements, the wide range of futures trading products and vehicles, order entry, handling customer's money, net capital requirements, and much more.
The Series 30 is a tough exam, but with hard work and diligent preparation you should be able to pass it, and enhance the prospects of your career in the futures industry.
Click Here for Series Test Breakdown