In order to be approved by the New York Stock Exchange or FINRAAQ to work as a research analyst for a securities trading firm, a person must take and pass the Research Analyst Part 2 Exam from the Financial Industry Regulatory Authority (FINRA). This exam is commonly referred to as the Series 87 exam.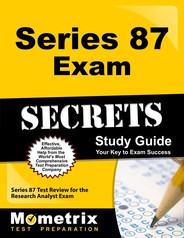 Prepare with our Series 87 Exam Study Guide. Print or eBook. Guaranteed to raise your score. Get started today!
Research analysts perform an important function on Wall Street-they prepare reports and evaluations of different securities for their firm's stock trading clients. These reports often recommend that clients either buy, sell, or hold the stock in question. These reports must be completely honest, thorough, and completely independent.
But during the tech boom of the 1990s, the honesty and independence of many of these reports by analysts came into question, and it turned out that many had been written not for the benefit of the firm's investing customers, but for the benefit of the company whose stock was being profiled. In many cases, the analysts themselves made huge profits by writing "buy " reports for stocks that they owned.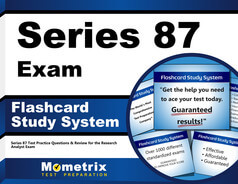 Series 87 Exam Flashcards. Proven flashcards raise test scores on the Series 87 exam. Guaranteed.
The NYSE and FINRAAQ have since cracked down hard on these practices, and instituted new regulations to prevent such abuses, and the Series 87 exam is used to ensure that research analysts know all the rules and the penalties for breaking them.You can take the test at any Prometric testing center; it's usually offered every day but Sunday. The cost is $105.
The Series 87 exam isn't necessarily easy, but it's pretty straightforward-you'll have 90 minutes to answer 50 questions on NYSE and FINRAAQ laws and regulations governing research analysts. You'll need to answer at least 35 of them correctly for the minimum acceptable score of 70%. You'll want to prepare by diligently studying the various NYSE and FINRAAQ research analyst laws.
Click Here for Series Test Breakdown