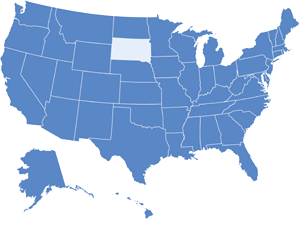 Once residents of South Dakota turn 14, they become eligible for their Instruction Permit. This phase of the licensure process in South Dakota is the first and easiest to accomplish. Read the entire article below, in one sitting, to gain an overview of the entire process. Once you know what to expect, go back and pay attention to what step you need to perform next to receive your full, unrestricted operator's license.
The first step toward your Instruction Permit is studying and preparing for the knowledge exam. You must pass this exam first in order to be issued a permit, so it is important to read, review, and study the South Dakota Driver's Manual. For a link to the manual, scroll down to the links section of this page.
Once you are ready to take the knowledge test, you will need to gather the appropriate documentation. This is usually the step that causes would-be drivers the most difficulty because the number of necessary documents has increased in the last decade. There is a link provided at the end of this page that has all the information you will need.
Your next step will be to locate a South Dakota Department of Motor Vehicles office. See the South Dakota DMV Driver License Offices web calculator for instructions on scheduling tests and the best times to come in: 
https://dps.sd.gov/driver-licensing/south-dakota-licensing-information/driving-tests .
Next figure out when your parent will have the time to take you to the DMV. (His or her signature is required on the application.) Then, go and get your Instruction Permit. As the new owner of an Instruction Permit, you have a choice to make. Either you can take a driver's instruction course, in which case you will be able to apply for a Restricted License in 90 days, or you can omit the driver's education and wait 180 days for the restricted Minor's Permit.
The Restricted Minor's Permit will allow you to drive without supervision from 6 in the morning until 10 at night. Throughout this entire trial period, you must drive without any convictions against your driving record. It is mandatory that all rules of the Minor's Permit are followed. If even a minor infraction is filed against you, then you must wait at least another 6 months before becoming eligible for a full Operator's License.
After you turn 16, you can upgrade your Restricted Permit to a full Operator Driver's License by mail.
Print and fill out a copy of the South Dakota Driver's License/I.D. Card Application
Copy your current restricted permit and enclose it
Enclose two documents that serve as proof of address (the parent who signs the application can provide these documents)
Enclose $20 by check or money order (If the teen applicant is 17, the fee is subject to change; call (800) 952-3696 to have a state official provide the correct prorated fee)
When your new license arrives in the mail, return your old license in the envelope provided
Links to the Most Useful South Dakota Division of Motor Vehicles Web Pages
Documents you need to bring with you to the Division of Motor Vehicles location that is most convenient to you: 
https://dps.sd.gov/driver-licensing 
South Dakota Driver License Manual, to review for the knowledge and road tests, as well as for more detailed information regarding the process of being issued a driver's license in South Dakota.