The TOEFL, or Test of English as a Foreign Language, is an exam administered by the Educational Testing Service (ETS). The TOEFL is taken by people for whom English is not their first language. It is used to determine ones' understanding of the English language in its written and spoken forms in college and university settings and situations.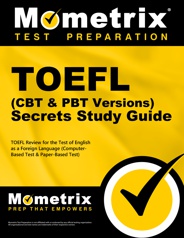 Prepare with our TOEFL Study Guide and Practice Questions. Print or eBook. Guaranteed to raise your score. Get started today!
Many colleges and universities that are primarily English speaking will require the TOEFL test for non-native English speakers that are applying for admission to those universities. There are various formats of the TOEFL, depending on where one will be taking the test. These include the paper-based test (PBT) and the internet-based test (iBT).
Registration for the paper-based and the internet-based tests can be done online, over the phone, or by mail. Online registration can be done on ETS's website 24 hours a day, seven days a week. Phone registration can be completed by calling 1-443-751-4862 or 1-800-468-6335.
Registration can also be completed by sending in the online registration form that can be found online at ETS's website. The mailing address is indicated on the form. The form, even if one is registering online or by phone, can be useful because it indicates the information that is needed for registration.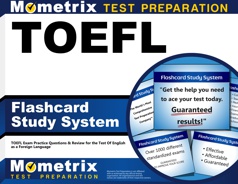 TOEFL Flashcards. Proven TOEFL test flashcards raise your score on the TOEFL test. Guaranteed.
Contact information, score recipients, and payment of fees are all required at registration. In addition, indicating the identification that will be used at the testing center, knowing the test location and test date desired are also needed when registering for the TOEFL. Early registration for the exam closes seven days before the test date, and late registration closes three days before the test date.
There are fees associated with taking the TOEFL test, and there is an additional fee for registering during late registration. Fees depend on the format of test being taken, PBT or iBT, and are outlined online at ETS's website.
We have provided the TOEFL resources and the tools. The rest is up to you- the best teacher is the person who knows you best- YOU!
Take the self assessment module quizzes below (make notes of your scores and remember which revealed significant gaps in your learning):