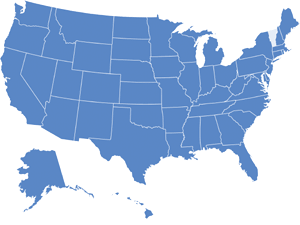 If you are under 18 and live in Vermont, you probably want a driver's license. This article will tell you how to get one as quickly as possible.
Teens who would like to drive in the state of Vermont need to start by applying for a Learner Permit. Your 15th birthday will be the first day on which you may go to the local DMV to take the knowledge test and receive the Permit. This is simply the first stage of the process. Below is a list of the actions required to prepare for the trip to the DMV.
You need to take a parent who will sign your application with you. Foreign exchange students may use a Foreign Exchange Parental Authorization Form. The required documents are available at the DMV.
You must take either a social security card that was issued in your name or a J2 Visa.
Gather the necessary documentation to prove residence in Vermont, birth date, and legal name. A birth certificate, social security card, and a Parental Residency Affidavit with one recent utility bill issued to your parent will normally suffice.
Find the DMV location that would be most convenient to which a parent can drive.
Make an appointment for a knowledge exam and vision test by calling 802-828-2085.
Go in and get the Instruction Permit.
Once you have the Instruction Permit, you will be authorized to drive under the instruction of a licensed individual at least 25 years old, particularly a parent or instructor. Be aware that the Instruction Permit is given on a provisional basis, meaning that it can be recalled if any laws are broken before the regular operator's license is acquired.
After you have the Instruction Permit, you will be licensed to practice driving in Vermont, allowing you to fulfill the driving requirements necessary for the Junior Operator License. You must hold the Permit for one year. For the six months prior to applying for a Junior License, your driving record must be clear of any violations.
In order to become eligible, you must also practice driving for 40 hours of supervised time behind the wheel, of which at least 10 of these hours must be conducted during the nighttime. When you return to the DMV to apply for the Junior Operator License, you will be asked for a Driving Practice Log Sheet that is certified by either a driving instructor, parent, or guardian.
Once these major requirements are fulfilled, you will be ready to gather the appropriate documentation and head into the DMV. Here's a quick checklist that should help:
Make an appointment for the road test by calling 802-828-2085.
Gather the same documents necessary for the Learner's Permit.
Make sure you have a registered, insured vehicle in which to take the road test. Also, check that the vehicle is well-maintained and up to the specifications of the road test.
Make sure the Driving Practice Log Sheet is filled out.
If the road test is passed, a Junior Operator's License will be issued to you. Though you will be able to drive without supervision, there are some restrictions. For instance, you cannot take a job requiring your services as a driver for the first year after issuance of the Junior Operator's License (pizza delivery boy, mailperson, etc.). Also, during the first three months after receiving the Junior Operator's License, you are prohibited from driving with passengers. During the second three months, you can transport immediate family only. Passengers are not restricted after the second three months.
For more details regarding licensure in Vermont, navigate to the Vermont Department of Motor Vehicles New Drivers Web Page.