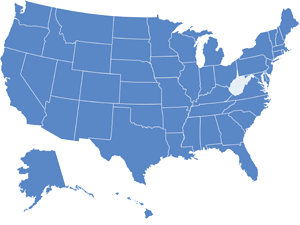 Young drivers in West Virginia must navigate the Department of Transportation's Graduated Driver Licensing (GDL) if they want to own a driver's license before they turn 18. The hallmark of the GDL program is the stair-step process, which involves varying levels of restrictions on driving privileges from ages 15 through 17.
This system is now in place, due to the significant reduction in car accidents caused by teen drivers observed by states implementing a GDL system. It may be slightly aggravating to navigate multiple tiers of driving privileges; however, it saves thousands of lives every year.
Each tier has its own requirements to fulfill, and each tier issues its own restrictions on driving. In addition to these concerns, navigating the Department of Transportation system will require knowledge of the documentation you must bring with you when applying for the next stage of the process. This information is provided below.
Tier 1: The Instruction Permit
At age 15, young drivers can apply for a learner's permit. They must pass the knowledge test and pay the appropriate fee of $5. Be advised that the knowledge test may seem easy, but many fail their first attempt, or more. In order to pass, you can study the West Virginia Driver License Manual, which is available online.
The first tier restricts young drivers to driving only when supervised by a licensed driver who is at least 21 years old and who is sitting in the front seat. Also, you may drive only between 5 in the morning and 10 at night, even with supervision. No more than two non-family members are allowed in a vehicle during this time.
Tier 2: Intermediate Driver's License
In order to be issued a second-tier license, young drivers must be at least 16 years old, and they must have owned a permit for six months or longer. Also, they must not have violated any laws or restrictions for the duration of their permit, and they must complete at least 50 hours of behind-the-wheel training with a parent, guardian, or driving instructor. A form, which attests to the completion of this requirement, must be brought with the other documentation to the DMV. At the DMV, you must pass the road skills test.
The second tier allows teens to drive without adult supervision, but it places a number of restrictions on the occupancy of the vehicle, as well as the hours during which the young driver may operate the vehicle. For the first six months after issuance, no passengers are allowed at all. For the second six months, only one passenger is allowed. Also, supervision is required for driving between 10 p.m. and 5 a.m.
Tier 3 – Full License
After one year with a violation-free second-tier license, young drivers may apply for the final tier of licensure. There are no restrictions on this type of license.
Documentation
You must bring to the DMV your birth certificate, social security card, two documents proving your residence in the state of West Virginia, and the Driver's Eligibility Certificate. In some cases, when the Driver's Eligibility Certificate has a physical address listed, which is within West Virginia, this form can substitute for the two proofs of residence requirement. The certificate is issued by the county school board.
Parental Consent
A parent or guardian must sign a minor's application for a driver's license at both the first and second tiers. If you are married, parental consent is unnecessary; however, you will need to bring in your marriage certificate as proof.