The Graduate Record Examination General Test measures basic cognitive skills that are unrelated to any particular course of study.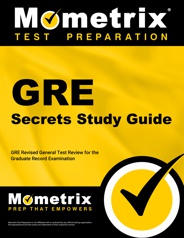 Prepare with our GRE Study Guide and Practice Questions. Print or eBook. Guaranteed to raise your score. Get started today!
The three skills which the GRE test seeks to measure are verbal reasoning, quantitative reasoning, and analytical writing.In the analytical writing section, the candidate will be asked to advance an argument in one 45-minute essay and critique an argument in another 30-minute essay.
The GRE test is administered around the United States and Canada; though it is most frequently administered via computer, paper copies are also available. The scoring of the GRE test is not directly dependent on the number of questions answered correctly.
This is because the GRE test is an adaptive test, in which the difficulty of the questions increases or decreases depending on the candidate's success during the test.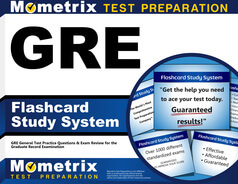 GRE Flashcards. Proven GRE test flashcards raise your score on the GRE test. Guaranteed.
Upon completion of the test, a score will be calculated by considering the number of questions answered, the number of questions answered correctly, and the difficulty level of the questions. The candidate will receive three scores:
a verbal reasoning score (from 200 to 800)
a quantitative reasoning score (from 200 to 800)
an analytical writing score (from 0 to 6)
These scores will be sent to the candidate and to institutions within 10 to 15 days after the completion of the exam.
The GRE test is composed and administered by the Educational Testing Service at locations around the world; prospective test-takers should visit the ETS website to register.
Here are the sections on the GRE test:
SECTION
Total amount of
time allotted
Number of
questions
Time to answer
each question
Analytical Writing I 
Issue Task
45 min
1
45 min
Analytical Writing II 
Argument Task
30 min
1
30 min
Verbal
30 min
30
1 min
Quantitative
45 min
28
1.6 min
Verbal / Quantitative*
30 – 45 min.
N/A
N/A
Research**
N/A
N/A
N/A
*This section is unidentified and does not affect your score. It is used to test out possible questions on future GRE tests.
**This section is clearly identified and is always at the end of the test.
Online GRE Prep Course
If you want to be fully prepared, Mometrix offers an online GRE Prep Course. The course is designed to provide you with any and every resource you might want while studying. The GRE Course includes:
Review Lessons Covering Every Topic
450+ GRE Practice Questions
More than 600 Digital Flashcards
Over 230 Instructional Videos
Money-back Guarantee
Free Mobile Access
and More!
The GRE Prep Course is designed to help any learner get everything they need to prepare for their GRE exam. Click below to check it out!
GRE Practice Tests