What exactly is the Independent School Entrance Examination, or ISEE? Well, let's start by defining what is meant by "independent school." For practical purposes, think of this term as generally referring to private schools in the US that aren't owned and/or funded by a religious congregation or organization.
Public schools are owned and operated by local governments, parochial and other religious schools are owned and operated by religious groups, but independent schools own and operate themselves. (Some of them incorporate religious teachings in their curriculum, but don't answer to any religious authority.)
Independent schools constitute about one percent of all schools in the country. A few public schools the US also use the ISEE; these are usually schools with selective admissions, such as magnet schools.
ISEE Practice Tests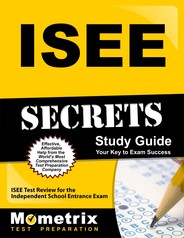 Prepare with our ISEE Study Guide and Practice Questions. Print or eBook. Guaranteed to raise your score. Get started today!
So how do these schools use the ISEE? Well, many of these schools are viewed as providing a higher quality education than public schools, which means that there is generally a lot of competition for admission to these schools. This means they can't accept everyone who applies, and they need a fair, unbiased way of screening applicants.
In addition, students from all kinds of schools will be applying and no two schools have the same standards, so a common measuring stick is necessary. Also, a standardized test helps the schools properly place the students who do wind up being admitted, making sure they're learning at an appropriate academic level.
The ISEE is a very effective way of addressing all three of these concerns. There are actually three different versions of the test: one for students applying for 5th and 6th grades, another for students applying for 7th and 8th grades, and another for students applying for 9th through 12th grades.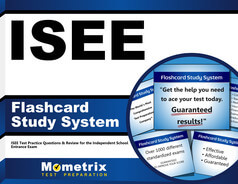 ISEE Flashcards. Proven ISEE test flashcards raise your score on the ISEE test. Guaranteed.
The test is developed and administered by the Educational Records Bureau firm, using standards from the National Council of Teachers of English, the International Reading Association, and the National Council of Teachers of Mathematics.
The test takes about three hours to complete, and the standard testing fee is currently $95. It's $115 for late registration and phone or fax registration, and $125 for registering on location the day of the test.
Educational Records Bureau offers an online guide telling students what they can expect on the ISEE. There are also some excellent study aids and other materials that a student can take advantage of in order to get a high score on the exam.
ISEE Exam Preparation - Synonyms
ISEE Study Guide
Explore our free ISEE review provided by Mometrix. Check out our premium ISEE study guide to take your studying to the next level. If you benefit from these materials, just click the link below! To compliment our ISEE book, we also offer extensive ISEE flashcards for even more ISEE test prep help. We hope you enjoy our products! Your purchase helps us make more great, free content for test-takers just like yourself.
Self-Assessment Modules for the ISEE Test