The Texas Success Initiative Assessment 2.0 (TSIA2) was created by the College Board to help students determine their readiness for college. The TSI assessments are multiple choice and are aligned to the Texas College and Career Readiness Standards.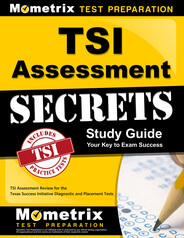 Prepare with our TSI Study Guide and Practice Questions. Print or eBook. Guaranteed to raise your score. Get started today!
The Texas Success Initiative Assessment 2.0 (TSIA2) is a component of the Texas Success Initiative enacted by the Texas State Legislature in 2011. In short, Texas state law requires all entering college students to be assessed for college readiness in reading, writing, and mathematics, unless the student meets exemption guidelines or demonstrates college readiness through successful completion of college-level coursework. Students must complete the TSIA2 and meet college-readiness standards before enrolling in entry-level college courses. Students who do not meet the college-ready benchmark of the TSIA2 are provided with a plan for academic success. Each plan is tailored to the student and may require additional coursework and other educational interventions.
Before taking the TSIA2, students participate in a pre-assessment activity (PAA). Each school sets up its PAA delivery method and time allotment. Overall, the PAA takes about 30 minutes to complete and provides you with an excellent overview of the TSIA2 and a focal point for your preparation steps. Be an active participant in the PAA; the time you spend with it leads to a better understanding of the TSIA2 and its requirements. The PAA varies by school but includes at the minimum:
Information on the significance of the TSIA2, how institutions use it throughout Texas, and the importance of the exam on the student's collegiate career;
Practice questions with feedback to guide the student;
Options for the student who does not meet the college readiness benchmarks; and
Thorough information about resources available to the student on campus and in the community will help ensure student success.
As mentioned earlier, some students are exempt from the TSIA2 requirement, either through standardized tests like the ACT, military service, successful completion of college-level coursework or certificate program, or the accepted transference of college-level coursework from another educational institution. If you think you qualify for an exemption to the TSIA2, talk with your academic counselor to ensure you meet the standards of a Texas Success Initiative (TSI) Exemption.
These assessments test three general academic areas: math, english language arts and reading (ELRA), and an essay. The TSI assessments are provided in a college or university setting, and each individual school may require additional testing to test a student's competency in an area. It is also important that a student check for testing details and dates for the mandatory pre-assessment activity as it will vary by institution.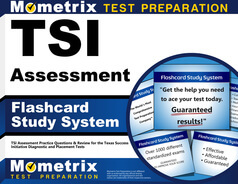 TSI Flashcards. Proven TSI test flashcards raise your score on the TSI test. Guaranteed.
Free TSI Practice Test
TSI FAQ
Q
What is a good score on the TSI?
A
Each section of the TSIA2 is scored separately.
College-ready ELAR scores
Your ELAR score indicates your college readiness if 1) you score between 945 and 990 on the CRC test and score five or higher on the Essay, or 2) you score below 945 on the CRC test, receive a five or higher on the Diagnostic test, and score five or higher on the Essay test.
College-ready Mathematics scores
If you score between 950 to 990 on the CRC, you are determined to be college-ready. If you score below 950 on the CRC, you are routed to the Diagnostic test. If you score above 6 on the Diagnostic test, you are considered college-ready.
Q
Do you have to take a TSI?
A
Not necessarily. There are several ways you can be exempt from taking the TSI.
Q
How much does it cost to take the TSI?
A
It cost $29 to take the TSI.
Q
Are you allowed to use a calculator on the TSI?
A
No, calculators are not allowed when taking the TSI.
Q
Is the TSI test required?
A
All students that are not TSI exempt are required by law to take the TSI test.
A
The TSI test is not timed.
Q
What are the tests within the TSIA2?
A
English Language Arts and Reading
The English Language Arts and Reading (ELAR) portion of the TSIA2 consists of up to three tests: a 30-question multiple-choice CRC test, a 48-question multiple-choice Diagnostic Test, and a one-prompt essay question. How well you perform on the CRC test determines if you are required to take the Diagnostic Test. There is no time limit for the CRC or Diagnostic tests, and you can start and stop the test within 14 days of starting the tests.
The CRC test consists of 30 questions addressing two content areas: reading and writing. Reading-focused questions evaluate your comprehension and analysis of written texts, including literary, informational, argumentative, and paired passages. Writing-focused questions measure your skill in editing and revising sentences, paragraphs, and early drafts of written work. A benchmark score of 945 to 990 indicates your college readiness on the ELAR CRC. If you obtain the benchmark score, you are directed to the essay portion of the ELAR. If your score falls below the benchmark, you are directed to the Diagnostic Test.
The Diagnostic Test is an additional way to evaluate your readiness for college-level courses. The 48 questions on the Diagnostic Test are divided between Text Analysis and Synthesis (reading) and Content Revision and Editing for Conventions (writing). Other types of texts, such as workplace documents, are the subjects covered in the Diagnostic Test. If you score a diagnostic level of 4 or higher, you are directed to the ELAR essay portion. A diagnostic score of 4 or less indicates you are not college-ready.
Essay
The Essay evaluates your ability to write a 300-600-word essay in response to a randomly selected prompt. The Essay examines your ability to form your thoughts in a cohesive and orderly manner, using correct grammar, punctuation, and spelling, while using critical thinking that demonstrates a reasoned relationship among ideas. You are provided scratch paper; references and resources are not allowed. There is no time limit for the Essay test, but it must be completed in the same session once started.
The Essay test is a part of the ELAR assessment but scored individually. The score you receive on your essay is a part of your ELAR score from the CRC test and Diagnostic test (if indicated). The Essay's score range is one to eight, with five the minimum required to be considered college-ready.
Mathematics
The Mathematics portion of the TSIA2 consists of two tests: a 20-question multiple-choice CRC test and a 12-question multiple-choice Diagnostic Test. How well you perform on the CRC test determines if you are required to take the Diagnostic Test. Personal calculators are not allowed, but an on-screen calculator is available. There is no time limit for the CRC or Diagnostic test.
Both the CRC and Diagnostic tests cover four content categories:
Quantitative Reasoning – apply basic mathematical skills to analyze and interpret data; use calculations to solve ratios, proportions, and percentages; and identify, manipulate, and interpret linear equations and expressions.
Algebraic Reasoning – solve equations, variables, and functions, and solve algebraic problems in context.
Geometric and Spatial Reasoning – use concepts, processes, and tools to solve space and spatial relationships; apply right angle trigonometry; and perform transformations.
Probabilistic and Statistical Reasoning – connect one concept to another, classify data, interpret probability, and describe measures of center and spread of state.
Q
How do I register for the TSIA2?
A
The TSIA2 may not be a requirement for admission if you meet exemption guidelines. Work with your academic advisor to determine if you qualify for an exemption. If you do not, you need to complete the Pre-Assessment Activity (PAA) before registering for the TSIA2. Please work with your academic advisor or contact the school's testing center to determine when the PAA is offered and how to register for it. Once you've completed the PAA and received your completion certificate, your academic advisor will assist you in the registration process for the TSIA2. Testing fees vary by institution, and financial assistance to cover the testing fee may be available to those who qualify.
Q
What can I expect on test day?
A
The TSIA2 is administered at college campuses and testing centers located throughout Texas. When you register for the exam, please pay attention to where it is administered and ensure you have transportation to and from the testing location.
On the day of your exam, your identification is inspected, and you may need to show proof of completing the PAA (the completion certificate) and payment for the test. Arrive 15 minutes before your test, and leave personal items at home or secured in your vehicle.
Your testing appointment is set for five hours, but there is no time limit on any of the CRCs or the Essay test. Your TSIA2 affects the courses available to you, so use the time provided to work smartly through the exams. If you need to stop and resume the test on another day, do so (with the exception of the Essay, which needs to be completed in the same session). The testing center has everything you need to complete the exam.
Q
What can I expect after I finish the test?
A
In most cases, your TSIA2 scores are available immediately via on-site printout and email. You can also have your scores sent to the college or university of your choosing. If you meet the benchmark scores, you are considered "college-ready," and you do not have limitations to the entry-level classes you can take. TSIA2 scores are valid for five years from the date you took the exam.
If you did not meet benchmark scores, there are options. Review your score report and identify the areas that caused you to struggle. Take some time and study, focusing on the weak areas noted in your report, and register to retake the test. Another route you can take is to talk with your advisor and identify courses that match your skill level with the goal to build up your base knowledge. These building block classes increase your confidence and expertise, so you are successful in entry-level college courses.
About the TSI Test
The history and purpose of the TSIA2 is an excellent foundation to the "why" you have to take the exam. Now let's talk about the "what" is on the exam that determines your collegiate path. The TSIA2 is a tool that academic advisors use to help guide your experience at their institution. Your results from the TSIA2, combined with your interests, educational history, and goals, help your academic advisor identify the courses that will help you attain success in your chosen program.
We'll go into more detail about each test further on in this article, but here is some basic information about the test as a whole. The TSIA2 is a diagnostic exam providing diagnostic information about your academic strengths and weaknesses. Your academic advisor utilizes the diagnostic report to target your class load based on your achievement level.
The TSIA2 consists of two College Readiness Classification (CRC) tests and one Essay test. The CRC tests contain multiple-choice questions and are computer-adaptive (increasing or decreasing in difficulty based on your answers) and computer-delivered. The Essay Test requires a 300- to 600-word response to a random prompt. Each test is untimed. You can start and stop the CRC tests as often as you like, as long as you complete them within 14 days. The Essay test must be completed in one untimed session. No outside study aids or materials (including calculators) are allowed. Scratch paper is provided as needed and turned in after the test(s). In most cases, results are available immediately.
TSIA2 Preparation
Knowing that your results on the TSIA2 impact your college career and the cost associated with your degree, the steps you take to prepare are of the utmost importance. Pay attention in the Pre-Assessment Activity, and take note of the questions you miss so you can focus your study efforts on your weaker subjects. Talk with your academic advisor. Your advisor is familiar with the expectations of the TSIA2, and he or she can guide you in your study efforts. Most importantly, give yourself the time you need to study appropriately—at least six weeks before your exam—and work diligently every day.
The TSIA2 is an essential part of your college experience. Take it seriously and prepare. Study, ask questions, consider your academic advisor's guidance, and know that you have everything you need for success: strength, initiative, resources, and resolve. Mometrix is ready with the help and support you need to ace the Texas Success Initiative Assessment 2.0. The quality of the materials, the availability of various delivery methods, and the 100% money-back guarantee combined with your effort and dedication are a formidable combination. Your future is in your hands.
TSI Study Guide
Explore our free TSI review provided by Mometrix. Check out our premium TSI study guide to take your studying to the next level. If you benefit from these materials, just click the link below! To compliment our TSI book, we also offer extensive flashcards and a mobile-friendly online course for even more TSI test prep help. We hope you enjoy our products! Your purchase helps us make more great, free content for test-takers just like yourself.
Self-Assessment Modules