Writing is a critical skill for college success, and it's one of the skills tested by the Texas Success Initiative Assessment (TSIA2) college readiness exam for Texans planning to enter college for the first time. The exam tests Mathematics and English Language Arts and Reading (ELAR) Content Readiness Classifications. The Essay Test is part of the ELAR section.
Some entering their freshman year of college receive notice that they're required to take the TSIA2, and some don't. If you've shown college-level readiness through certain criteria, you won't have to sit for the exam. The criteria include achieving high scores on the SAT, ACT, and English STAAR exams, as well as having completed a high school college preparatory course or college-level English courses, enrolling in a Level-One certificate program, and having served in the military. If you have questions about your exemption eligibility, talk to your high school counselor, dual credit advisor, or college advisor.

Q
Do all students have to take the exam?
A
No. The TSI exam is only given to students who show a high risk of not succeeding in college-level coursework. Taking the exam also depends on a few other factors, such as low scores on the SAT, ACT, or STAAR tests. Students with SAT scores of 480 on the reading and writing sections and a 530 on the math section will result in that student not having to take the TSI exam. If you score 19 on the reading and math sections of the ACT, you will not have to take the TSI exam.
If you are currently serving or have served in the United States Military, you are also exempt from taking the TSI exam, and if you are currently enrolled in a certificate program, you do not have to take the exam.
Keep in mind that before you can take the TSI exam, you will have to complete a pretest, also called "pre-assessment activity." This is mandatory and failure to complete the "pre-assessment activity" will hold you back from taking the TSI exam. This part of the TSI process is only about 30 minutes.
Q
What is the point of "pre-assessment activity?"
A
This part of the TSI process is important because it gives you an overview of what the TSI exam is all about. It lets you know why the TSI exam is so important and why you should strive to do well. You will be given tips for success on the exam, what your scores mean, and practice quizzes.
Q
What can I expect if I'm ready to register?
A
Your point people for the TSIA2 exam are your high school counselor, dual credit advisor, or college's incoming freshman advisor. Start at your high school to get the appropriate information for registration. The test may be offered at your school, in your school district, or at a college testing site. You'll have a form to fill out, and you may need to pay; some school districts cover the fee, some do not.
If registration is step one, then step two is a required TSIA2 Pre-Assessment Activity, which provides:
TSIA2 information and relevance
Resources available to help you adjust to college
Developmental education options
Practice questions
When you complete the Pre-Assessment Activity, you'll receive feedback on your responses to the questions. Use the feedback to identify your academic strengths and weaknesses. Next, follow the test preparation suggestions below. When you are prepared, your point of contact can help with scheduling information. You can finish the exam all in one sitting, or you may save the test and continue another day for up to a maximum 14-day timeline. The exception is with the Essay Test, which must be completed in one sitting
Q
Where is the TSI exam administered?
A
Mostly all colleges, universities, and testing centers administer the TSI exam. The school you plan on attending may also administer the exam, so be sure to contact them to find out if they offer it.
Q
How is the essay portion of the exam formatted?
A
The Essay Test is part of the ELAR component of the TSIA2. You'll be presented with a prompt that has been randomly selected for your test. Your essay, based on the prompt, must be a 300-600-word response that shows qualities deemed as highly valued for college coursework. The qualities, six in total, for scoring are:
Purpose and Focus: Coherent, unified presentation of information to address the issue presented in the prompt
Organization and Structure: How you order and connect your ideas in the essay
Development and Support: How you develop and support your ideas in the essay
Sentence Variety and Style: Using voice, vocabulary, and structure to create sentences and paragraphs
Mechanical Conventions: Expressing ideas using Standard English conventions
Critical Thinking: Communicating your point of view and demonstrating reasoned relationships among ideas
Q
What will the day of the exam be like?
A
Make sure to arrive at least fifteen minutes early. If you are late for the exam, you may not be allowed inside the testing room. You must have a current, government-issued photo identification on you. Personal items, including cell phones, other electronic devices, bags, etc. are not allowed inside the testing room with you.
Q
What score do I need to show college readiness?
A
The score benchmark to show college readiness on the exam works in conjunction with your ELAR College Readiness Classification (CRC) score on the multiple-choice questions. There are two options to hit the mark:
Score 945-990 on the CRC and achieve a score of 5-8 on the Essay Test
Score 910-944 on the CRC, a 5-6 on the Diagnostic Test, and a 5-8 on the Essay Test
If you score according to the benchmark, you'll be allowed to enroll in the college-level courses in your major. If you miss the mark, you can retake the exam according to the guidelines of the administering school district or college. At some point, if you can't reach the passing standard, you'll be informed of options including developmental courses to get you to the college level.
Q
Will I receive my results the same day?
A
Yes. When you complete your TSIA2 test, you'll receive an electronic score. You might wonder how the essays are scored so quickly, considering the time it would take a person to analyze 300-600 words according to the six qualities.
The electronic scoring system that is used was developed by giving the computer an expert review of essays and scoring information. The automated system looks for similarities in your essay to the 500+ graded samples. Your reviewed essay will be placed in the same category as those most like yours, based on the qualities defined, and will given the appropriate score.
The score you receive will be a number, 1-8, provided along with a Holistic Score Description. TSI provides the following descriptions, from highest score to lowest:
8: The essay demonstrates clear and consistent mastery of on-demand essay writing.
7: The essay demonstrates consistent mastery of on-demand essay writing.
6: The essay demonstrates reasonably consistent mastery of on-demand essay writing.
5: The essay demonstrates adequate mastery of on-demand essay writing.
4: The essay demonstrates developing mastery of on-demand essay writing.
3: The essay demonstrates little mastery of on-demand essay writing.
2: The essay demonstrates very little mastery of on-demand essay writing.
1: The essay demonstrates no mastery of on-demand essay writing.
Your essay must meet the 300-word minimum to receive a score. It must also be written on the topic in the prompt and written in English. Keep in mind that, although the other sections of the TSIA2 can be completed over a 2-week period if needed, once you begin the essay, you must finish and submit it in that same session. If you fail to do any of these tasks, you'll receive a zero on the essay, which you want to avoid.
Q
What does receiving a low score on the TSI exam mean?
A
If you get a low score on the exam, you may retake it as many times as you need to. A low score will not keep you from attending the school of your choice; it just means that you will need to take remedial coursework before moving on to college-level coursework. This may mean an extra semester or two in college.
Q
How can Mometrix Test Preparation help me prepare for the TSI writing exam?
A
The goal of Mometrix is to give test-takers exactly what they need in order to pass whatever exam they are taking with a grade they can be proud of. Our study guide, online course, and flashcards are packed with detailed yet easy to understand information. We also provide practice questions that help you get comfortable with the layout of the actual TSI Writing exam. Mometrix allows you to study only the material that is most likely to show up on the TSI exam so that you're not wasting your time on unnecessary content. If you want to pass the TSI Writing test on your first attempt, then you want to go with Mometrix.

TSI Writing Practice Test
TSIA2 Test Preparation
Writing essays and expressing ideas using proper English conventions comes naturally to some people; for others, it's a challenge. For many, writing to a random prompt adds an extra obstacle to hurdle. The key to scoring well on the Essay Test may be your preparation before you take this part of the TSIA2.
Preparation for an essay involves practice. A quality study guide, practice tests, and an online course can be beneficial. Also, you can search online for sample essay prompts to practice responding on the spot to a random request. Practice on the multiple-choice writing-focused questions may help as well. Practice improves your chances of meeting the college readiness benchmarks, helping you to enter your first semester with college-level classes.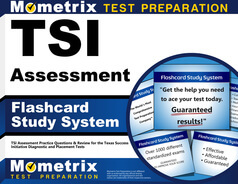 TSI Flashcards. Proven TSI test flashcards raise your score on the TSI test. Guaranteed.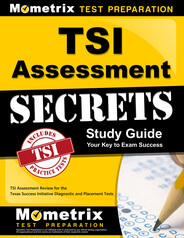 Prepare with our TSI Study Guide and Practice Questions. Print or eBook. Guaranteed to raise your score. Get started today!