Students who want to attend independent schools must show that they have the skill to do the classroom work. That's why a group of educators and others created the Secondary School Admission Test (SSAT). The test measures a student's ability in verbal, math, and reading skills. The SSAT has three different exams, and this guide covers the Upper Level test and what students can expect when taking it. This guide also contains information on some excellent study materials that can help students prepare for this challenging exam.
Free SSAT Practice Test
Who takes the Secondary School Admission Test Upper Level exam?
Students in grades 8 to 11 who are entering grades 9 through post-graduate take the exam.
Where can I take the test?
Candidates can take the exam at any number of schools, colleges, universities, or educational consultant facilities. These locations vary by state. Please check the SSAT website for the locations nearest to you.
When is the test offered?
The SSAT has eight standard test dates over a 12-month period. Students can also take the exam during one flex date. Consult the SSAT website for specifics.
What is the fee to take the exam?
The standard registration fee in the United States is $139. However, there may be additional fees based on several factors, including whether you've missed the regular application deadline or decide to take the exam at an educational consultant location. International fees are higher.
How many questions are on the test?
There are 167 different questions on the exam.  Of those 150 are scored.
What's on the test?
The test contains six different sections, as outlined below.
Writing sample. Students have a choice and can either do a creative or traditional essay.  This essay is not scored but is used by admissions officers to see how well students organize ideas.  Students have 25 minutes to complete this section.
Quantitative (Math) section. This section contains a total of 50 questions given in two, 30-minute sessions. Students will face questions in number concepts, like percent and ratio; algebra; geometry and measurement; and data analysis and probability.
Students have 40 minutes to complete 40 questions in a section that tests your ability to understand what you read. Students will be given a reading passage, which is generally 250 to 300 words long and then must answer questions about what they've read.
This section has 60 total questions, of which 30 are synonyms and the other 30 analogies. Students have 30 minutes to tackle issues of word similarities.
Experimental Section contains questions being tested for future SSAT exams. It contains 16 questions in verbal, reading, and quantitative categories.
I see there is a Math portion. Does that mean I can bring my own calculator to the test?
No. All calculators are prohibited.
What else is prohibited on test day?
Students are not allowed to bring any personal items into the test room. This includes all electronics. While students can bring their cell phone with them, it must be turned off.
What should I bring to the test center?
Make sure to bring your admission ticket, two No. 2 pencils, and a snack or drink.
When should I arrive at the test location?
Make sure to give yourself plenty of time before the test. Arrive 30 to 45 minutes early. Tests usually begin at 9 a.m., and any student who arrives after the test starting time will not be allowed to take the exam.
What's the total test time?
The total test time is 3 hours and 5 minutes.  The test time includes a five-minute and a 10-minute break.
When will I receive my test scores?
Students and schools receive test scores about two weeks after the completion of the exam. Students can access their scores via their SSAT account.
How will the admission officers use my score?
Admission officers use the test as one part of the admission process. Admission officers tend to look at two parts of the score — your scaled score and percentile ranking. Students can achieve a scaled score of 500 to 800.
What are the best study materials I can get to help me prepare for the test?
Mometrix has the study materials you need. These materials have been written by experts in the education field who know how to help you navigate the Secondary School Admission Test Upper Level exam. Our study guide is full of helpful test information including a comprehensive verbal, quantitative, reading, and writing review. The guide also includes a unique video tutorial that helps reinforce learning.  Our flashcards are a perfect tool for students and parents to spend time studying together. Parents can test students anytime and anywhere with this easy, portable tool. These are the perfect study materials.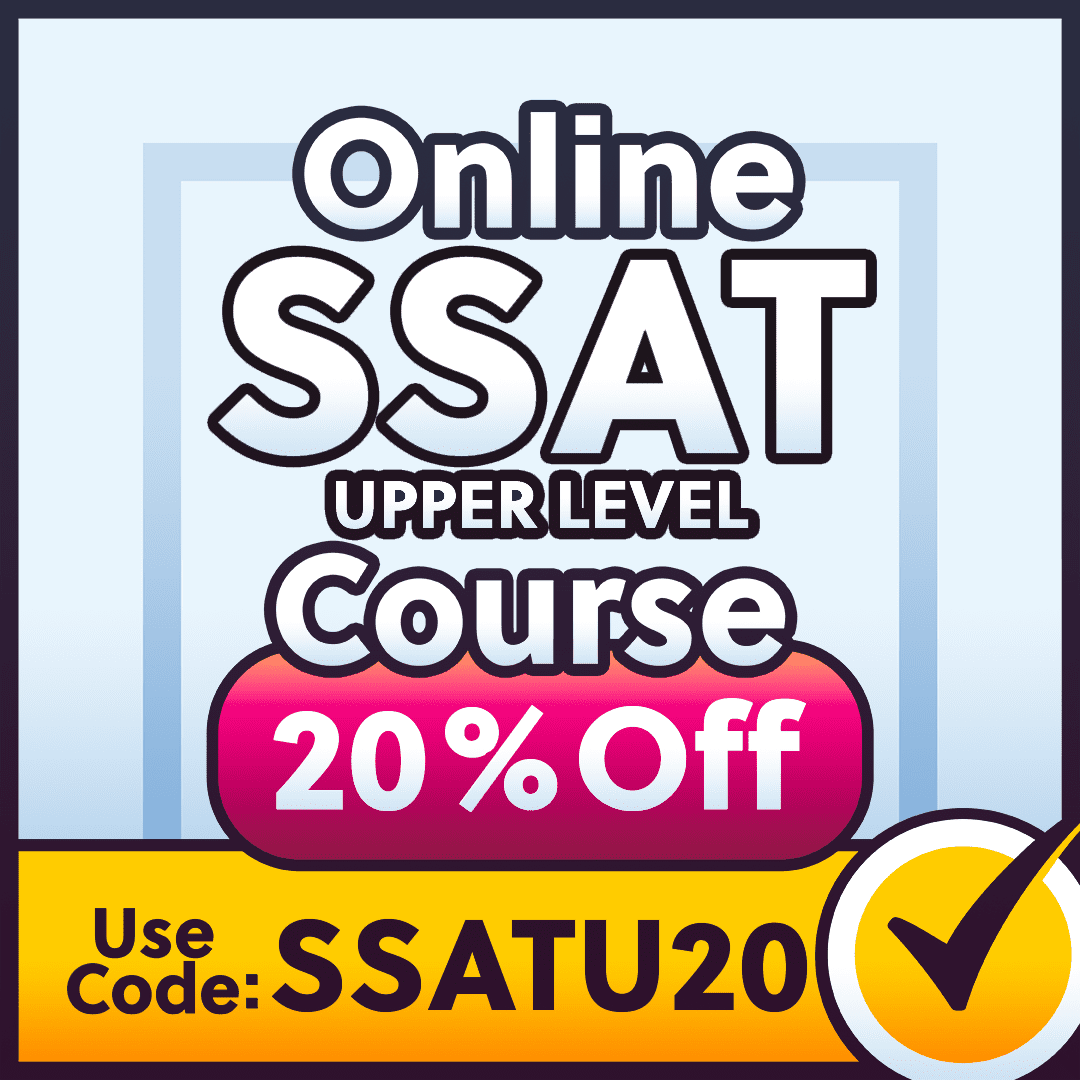 SSAT Exam Self-Assessment Modules
SSAT Study Guide
Explore our free SSAT review provided by Mometrix. Check out our premium SSAT study guide to take your studying to the next level. If you benefit from these materials, just click the link below! To compliment our SSAT book, we also offer extensive flashcards for even more SSAT test prep help.
We hope you enjoy our products! Your purchase helps us make more great, free content for test-takers just like yourself.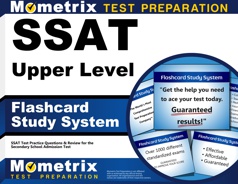 SSAT Upper Level Flashcards. Proven SSAT test flashcards raise your score on the SSAT test. Guaranteed.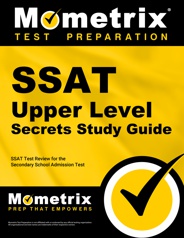 Prepare with our SSAT Upper Level Study Guide and Practice Questions. Print or eBook. Guaranteed to raise your score. Get started today!