If you're a parent who is considering seeking admission to a private secondary school for your child, then the SSAT is something you need to know about, as it can make or break your child's chances of being admitted to selective private schools.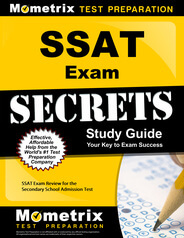 Prepare with our SSAT Study Guide and Practice Questions. Print or eBook. Guaranteed to raise your score. Get started today!
SSAT stands for Secondary School Admission Test, and it is being used by selective private schools all across the country, both religious and secular, as an entrance examination, in order to screen out less qualified applicants.
Some may criticize schools which do this as "elitist", but that is missing the point entirely.
The very reason these schools are so popular with parents that they can charge very high tuition, and have to turn away applicants, is because their graduates are much more likely to be admitted to the top colleges and universities in America.
So, in order to maintain their exclusive status, they seek to admit only those students they believe will achieve strong academic success. They estimate a child's chances of success largely by his or her score on the SSAT.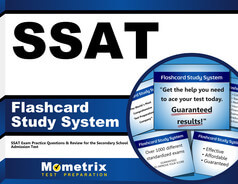 SSAT Flashcards. Proven SSAT test flashcards raise your score on the SSAT test. Guaranteed.
Free SSAT Practice Test
So, fair or not, it behooves a parent to learn all about the SSAT, if they want to give their child the best chances for a superior college education, which leads to higher chances of being admitted to professional graduate schools, and increased odds of long term success in their career. If you're a parent in this category, you'll find SSAT resources on other pages of our site, which can give you a good head start on becoming familiar with the exam.
Of course, while it's important to learn about the exam, that's not enough. Once you understand what your child is up against, you'll want to do everything you can to help him or her prepare as thoroughly as possible for the test, in order to achieve the high score necessary to win admission to a selective private school. Taking numerous SSAT practice tests is recommended for test day success.
SSAT Upper Level Practice Test
Unfortunately, in today's era of the "Tiger Mother" and "helicopter parents", almost everyone else is doing the same thing for their own children. As a result, the competition (and it really is a competition) just keeps getting tougher and tougher every year, which makes it even more important that your child gets into a good school. That's why so many parents turn to SSAT study aids to help their child prepare. Some hire tutors, while others turn to quality study guides.
While not every child needs these aids to do well on the SSAT, many do. However, many parents, if they have the time and the education level, choose to spend hours of their own time tutoring their children. All of these approaches are valid; and none is better than the other. The really important thing is to go the extra mile in some fashion to help you child succeed on the SSAT.
SSAT Exam Self-Assessment Modules
SSAT Study Guide
Explore our free SSAT review provided by Mometrix. Check out our premium SSAT study guide to take your studying to the next level. If you benefit from these materials, just click the link below! To compliment our SSAT book, we also offer extensive flashcards for even more SSAT test prep help.
We hope you enjoy our products! Your purchase helps us make more great, free content for test-takers just like yourself.