One of the requirements for attaining the Certified Internal Auditor (CIA) designation is the successful completion of the rigorous CIA examination. This exam, offered through the Institute of Internal Auditors (IIA), tests an applicant's knowledge of current auditing standards and practices as well as audit risks and appropriate remedies.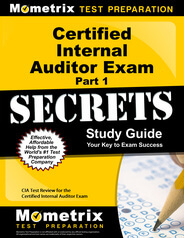 CIA Test Study Guide. Print or eBook. Guaranteed to raise your score. Get started today!
In addition to passing the exam, candidates for a CIA designation must also hold at least a Bachelor's degree or its equivalent from an accredited college or university; provide a character reference form signed by a current CIA; and complete at least two years of verified related work experience.
Although candidates may take the CIA exam before they have completed the professional experience requirement, they will not receive certification until all requirements have been satisfied. CIA candidates must complete all of their certification requirements within four years from the time their applications are approved to remain eligible for the program.
Test candidates may register for the CIA exam through the IIA's online Certification Candidate Management System or a paper-based system for those with no Internet. The registration process also requires creating a profile, submitting appropriate documentation, and paying the required application fees.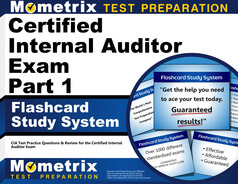 CIA Test Flashcards. Proven CIA Test flashcards raise your score on the CIA Test. Guaranteed.
These fees include a one-time initial application fee as well as a separate fee for each of the four sections of the exam. After receiving authorization, applicants have 180 days to schedule a test date at one of more than 500 computer-based test centers located around the world.
The CIA exam consists of four three-hour sections, with each section containing 100 multiple-choice questions. Candidates may take one or more of the sections in any order at any time:
Part I: The Internal Audit Activity's Role in Governance, Risk, and Control
Part II: Conducting the Internal Audit Engagement
Part III: Business Analysis and Information Technology
Part IV: Business Management Skills
The test is scored on a scale of 250 to 750 points; although candidates are given only pass or fail results. Applicants who fail a section must wait 90 days before retaking that portion of the exam.