A Certified Information Systems Auditor (CISA) position may be obtained without certification, but more and more employees are seeking the certification. In recent years, the human resources departments of many noted corporations have incorporated the certification into their hiring qualifications.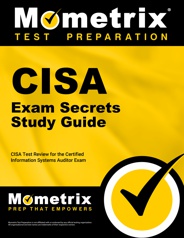 Prepare with our CISA Study Guide. Print or eBook. Guaranteed to raise your score. Get started today!
The CISA certification has other requirements besides the CISA test; however, passing the test is a significant step in obtaining the certification. Information system auditing is essential to control and security of nearly all modern businesses and institutions.
It is for this reason that more than 60,000 people have received the certification. The rapid expansion of information technology in recent years will place ever greater emphasis on maintaining CISA certification.
The CISA exam is administered world-wide as well as in the United States. Most states in the U.S. have multiple testing centers for the administration of the paper exam. The paper exam consists of 200 items.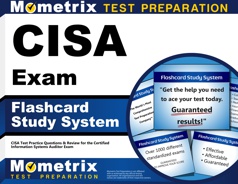 CISA Flashcards. Proven CISA test flashcards raise your score on the CISA test. Guaranteed.
As with many other standardized tests, raw scores are scaled and ranked according to a peer population of test takers. The value of scaled scores ranges from 200 to 800. The minimum passing score required for certification is 450. The candidate for CISA must attain that score before being permitted to present the additional qualifying documentation required for certification.
The CISA exam is administered twice a year, during the months of June and December. 
Early registration secures preferential treatment when the nearer test centers are filled to capacity. Unsuccessful test takers may take the test as many times as they wish until they attain a score of 450. In the interest of future testing, unsuccessful testers will be notified of areas of significant weakness so that they can improve their performance.
Registration for the test can be conducted online, by telephone, or by mail. An admission ticket is required and will be sent to the registrant two to three weeks prior to the exam date. In addition to the e-ticket sent by ISACA, candidates for the test will be required to present valid identification, such as a driver's license, military ID, passports, or Alien Registration cards.