Like most other states, Oregon has implemented a set of tests to evaluate the skills and knowledge of prospective teachers. This was done in response to a growing national concern about the deteriorating quality of our nation's schools, which was partly blamed on the presence of too many unqualified teachers in US classrooms. How much of the blame was truly the fault of unfit teachers has never really been quantified, and is the subject of much controversy even today. Many say that teachers have been unfairly scapegoated by politicians and others looking for simple answers and quick fixes to complicated and difficult problems in our schools. Be that as it may, the fact remains that teacher licensing requirements have gotten tougher all over the United States, and Oregon is no exception.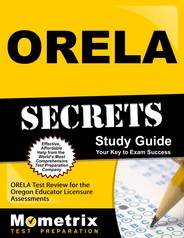 Prepare with our ORELA Study Guide and Practice Questions. Print or eBook. Guaranteed to raise your score. Get started today!
Oregon's approach to improving the quality of its school teachers was similar to what most other states did: it created rigorous tests which prospective teachers must pass in order to be licensed to teach. These are known as Oregon Educator Licensure Assessments, or ORELA. There are over two dozen different ORELA exams: Administrator, Art, Biology, Business Education, Chemistry, Early Childhood Education, English Language Arts, English to Speakers of Other Languages (ESOL), Essential Academic Skills, Family and Consumer Sciences, General Science, Health, Mathematics, Middle Grades English Language Arts, Middle Grades General Science, Middle Grades Mathematics, Middle Grades Social Science, Multiple Subjects, Music, Physics, Physical Education, Protecting Student and Civil Rights in the Educational Environment, School Counselor, School Library Media Specialist, Social Science, Spanish, and Special Education.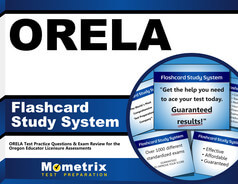 ORELA Flashcards. Proven ORELA test flashcards raise your score on the ORELA test. Guaranteed.
Most tests are taken on a computer, instead of with a pencil and paper. They are given at Pearson Professional Centers (Pearson/Vue) across the US, and in several foreign countries. Those who will be taking their exam on a computer can do so at any time throughout the year, simply by scheduling an appointment. Pencil and paper tests are given six times during a calendar year, spaced pretty evenly apart. While not all tests have the exact same details, they are very similar. There are usually around 150 questions, which are multiple choice, and the test taker has between two and three hours to complete the exam. There is a fee to sit for the tests, of course. As of this writing, the fee for most of the exams is $95, but that is subject to change.
You'll need to pay the fee well in advance in order to secure your testing appointment. Your fee is fully refundable until you actually set an appointment date for taking the exam. However, in case a change of schedule should arise which would prevent you from being able to keep your appointment, you're still entitled to a refund if you cancel at least 24 hours before the scheduled test. You'll need to have your driver's license or passport, or other official photo ID. If you arrive more than 15 minutes late, you may be refused admission, with no right to a refund. If you have to miss the test due to a legitimate emergency, you can apply for a voucher to cover the fee for a new test date.
Free NES Practice Test Questions
ORELA Self-Assessment Modules
ORELA Study Guide
Explore our free ORELA review provided by Mometrix. Check out our premium ORELA study guide to take your studying to the next level. If you benefit from these materials, just click the link below! To compliment our ORELA book, we also offer extensive flashcards for even more ORELA exam prep help. We hope you enjoy our products! Your purchase helps us make more great, free ORELA certification content for test-takers just like yourself.