The Praxis Core Academic Skills for Educators Tests, commonly known as the Praxis Core tests, are three exams used to evaluate individuals seeking to enter teacher education programs. Also, many states use them for testing people who are applying for their teacher's license after earning their degree.
They have been developed by the Educational Testing Service to measure basic skills in reading, writing, and mathematics. The tests can be taken individually, or a person may choose to take two of the tests, or all three of them. After the completion of a Praxis Core test or test battery, a copy of the score report will be mailed to the test taker and to any relevant agencies.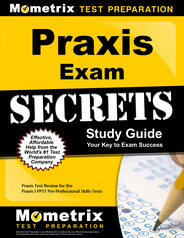 Prepare with our Praxis Test Study Guide and Practice Questions. Print or eBook. Guaranteed to raise your score. Get started today!
The Praxis Core Reading test consists of 56 selected-response questions that must be completed within 85 minutes. The questions will fall into three categories:
Craft, Structure, and Language (30%)
Key Ideas and Details (35%)
Integration of Knowledge and Ideas (35%)
The Praxis Core Mathematics exam also consists of 56 selected-response and numeric entry questions that must be completed within 85 minutes. During the exam, test takers will have access to an on-screen calculator if they need one. There are four categories of questions on this exam: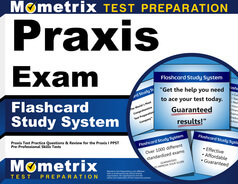 Praxis Test Flashcards. Proven Praxis test flashcards raise your score on the Praxis exam. Guaranteed.
Statistics and Probability (20%)
Algebra and Functions (30%)
Geometry (20%)
Number and Quantity (30%)
The Praxis Core Writing test is a bit different than the other two. It has a time limit of 100 minutes, instead of 85. Of that, 40 minutes is allotted to the selected response portion of the test. There are two categories of questions: Text Types, Purposes, and Productions, which consists of 6-12 questions, and Language and Research Skills for Writing, which will have 28-34 questions. In addition, the test taker will be required to write two essays on assigned topics. Each of the essays will have a 30 minute time limit.
The Praxis Core tests used to be known as the Praxis 1 exams. Along with the name change came some other modifications. Probably the biggest change is that, unlike the Praxis 1, which was available in both paper and computer formats, there is no paper testing option for the Praxis Core.
The tests are given on computers at colleges, universities, and Prometric testing centers around the nation.
Each test costs $85, unless registering to take two or three on the same day. For those taking two tests, the cost is $125, and it's $135 for those taking all three. However, these discounts only apply when taking multiple tests on the same date. Anyone who wants to take tests on different dates will need to pay the full $85 for each test. For some test takers, fees can be waived (once per year). The Praxis Core website has the details on qualifying and applying for a fee waiver.