The Commission on Teacher Credentialing developed the CSET Foundational-Level Mathematics examination as a criterion referenced examination for certification Foundational-Level Mathematics.
This means that your score is designed to measure the depth of your knowledge as compared with a standard, rather than as a comparison with others taking the same examination. In order to be credentialed in Foundational-Level Mathematics, you must successfully obtain a score of 220 on both subtests. Expect to receive the results of your examination within 7 weeks of taking your test.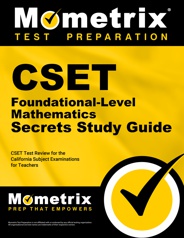 Prepare with our CSET Foundational-Level Mathematics Study Guide and Practice Questions. Print or eBook. Guaranteed to raise your score. Get started today!
Note that this examination gives you the credentials only in the areas of general mathematics, algebra, geometry, probability and statistics, and consumer mathematics. This examination is only administered in the computer based format. You will be allowed 2 hours and 30 minutes for each subtest.
As part of the computer based format you will be asked to sign a nondisclosure agreement. You will also want to watch the tutorial on how to use the response sheet (as provided by the testing center) and scan it into the computer for grading.
You will get an extra 15 minutes of time for the nondisclosure agreement and the tutorial. Please bring an approved graphing calculator to the testing site. The CSET Foundational-Level Mathematics practice questions will prepare you for the 70 multiple choice questions on your test.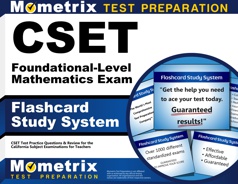 CSET Foundational-Level Mathematics Flashcards. Proven CSET Foundational-Level Mathematics test flashcards raise your score on the CSET Foundational-Level Mathematics test. Guaranteed.
CSET Foundational-Level Mathematics subtest #211 will test you on Number and Quantity and Algebra. This subtest will also include 3 constructed responses, extended response answers.
CSET Foundational-Level Mathematics subtest #212 will test you on Probability and Statistics, and Geometry. Use the CSET Foundational-Level Mathematics practice test to also help you prepare for the 3 constructed response, extended response questions in this section.
Some of the questions may not be familiar to you. This is because the test may include some questions that are intended to be evaluated for future administrations. Your answers to these questions will not affect your score. Be sure to dress comfortably so that you are relaxed and ready to take your test.