Science – it's one of the core subjects in education. Educators in California must prove their subject mastery by taking, and passing, the California Subject Examination for Teachers (CSET) in Foundational-Level General Science Exam (215).
How many questions are on the CSET in Foundational-Level General Science Exam (215)?
This computer-based test contains 100 multiple-choice and four constructed-response questions.
How long do I have to complete the exam?
Students have four hours to finish this test.
When can I take the test?
Candidates can take the exam Monday through Saturday, year-round, except for certain holidays.
What is the fee to take the exam?
Candidates pay a $133 exam fee.
What questions are on the CSET in Foundational-Level General Science Exam (215)?
The test has four main sections.
Scientific Practices, Engineering Design and Applications, and Crosscutting Concepts has 33, questions. That makes this section the exam's largest. Areas include:

Scientific data and information analysis and the ability to draw conclusions from the data
Understanding how to construct and analyze scientific explanations
Design solution optimization
Understanding the interdependence of science, engineering, and technology
The structure-function relationship in natural and engineered systems

The Physical Sciences section has 23 questions with questions in the following areas:

Atoms and the basic substructure
Different states of matter and their characteristics
Water's physical and chemical properties
Chemical bonding
Kinetic and potential energy
Energy at the macroscopic level
Electrostatic and magnetostatic phenomena
Simple series and parallel circuits interpretation

Life Sciences has 22 questions covering these topics:

Elements that make up most of the chemical compounds in living organisms
How living things are made of cells
Prokaryotic and eukaryotic cells and viruses' similarities and differences
Protein synthesis process and significance
Anatomical structures and life processes of various plant groups
DNA structure and process replication
Theory of natural selection

Earth and Space Sciences, also with 22 questions, covers topics that include:

The Big Bang model
Astronomical instruments and their part data collection
Nuclear fusion in stars
Solar system formation and structure
Plate tectonics
Earthquake damage
Weather and climate
Natural resources and hazards
Renewable and nonrenewable energy resources
Extraction and recycling processes as they relate to energy, cost, and demand
Where can I take the test?
California uses a private testing company to deliver the exam. There are testing centers across California and throughout the United States.
Since this is a science test, can I bring my own calculator?
No. Candidates will have access to an on-screen calculator.
Will any other tools be available during the test?
All candidates will have access to a copy of the periodic table.
What is the test passing score?
Candidates must score 220 or higher to pass the exam.
Am I allowed to bring personal items into the testing room when taking the CSET in Foundational-Level General Science Exam (215)??
No. Candidates can't bring personal items like mobile phones, electronic devices, wallets, purses, hats, and head coverings into the testing room. Personal items must be placed in a locker at the test center.
What identification should I bring to the test center?
Candidates will need two forms of identification — a primary form and a secondary form. The primary form should be a government-issued ID like a passport or driver's license that contains a signature and photograph. A secondary ID must contain a signature.
What are the best study materials I can obtain?
Mometrix has study materials that have been designed by seasoned test-taking professionals. They help candidates understand the areas of the test that tend to pose the most difficulty, provide tips on avoiding test anxiety and even contain a study plan. Whether it's our study guide or handy flashcards — which lets you study on the go — we have the tools that can help you prepare for the CSET in Foundational-Level General Science Exam (215).
Free CSET Foundational-Level General Science Practice Test (215)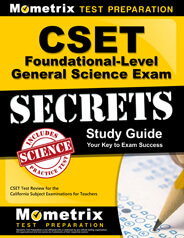 Prepare with our CSET Foundational-Level General Science Study Guide and Practice Questions. Print or eBook. Guaranteed to raise your score. Get started today!

CSET Foundational-Level General Science Flashcards. Proven CSET test flashcards raise your score on the CSET Foundational-Level General Science test. Guaranteed.