The CSET Writing Skills test can only be used in conjunction with the CSET Multiple Subjects examination to satisfy the basic requirement. Basic writing skills are a vital skill for all educators. The results of the CSET Writing Skills (test code #142) test will demonstrate whether the prospective teacher has the necessary writing ability to become a teacher. The CSET Writing Skills examination has only two parts—Expository Writing and Expressive Writing. Test-takers will be expected to give constructed response answers. This is a computer based program.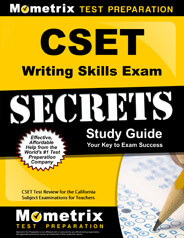 Prepare with our CSET Writing Skills Study Guide and Practice Questions. Print or eBook. Guaranteed to raise your score. Get started today!
For the Expository Writing questions, the computer will provide a given situation or statement. You will need to follow the instructions on the screen to analyze, describe, discuss or interpret the given material.
The Expressive Writing portion of the test will ask you to write a narrative about a specified personal experience.
You will have 1 hour and 30 minutes to complete your answers for both questions.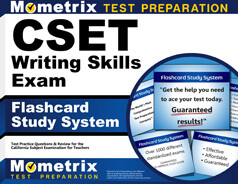 CSET Writing Skills Flashcards. Proven CSET Writing Skills test flashcards raise your score on the CSET Writing Skills test. Guaranteed.
The computer program will instruct you to complete a nondisclosure agreement and watch a tutorial. You will receive an additional 15 minutes for this, which will not be considered part of your test taking time.
Feel free to take a break if you need one, but you will not have the ability to stop your computer test in order to take a break.
Take your time and think your answers through. Your answers will be measured against a standard that was developed by California educators.
You will need a score of 220 on each subtest in order to attain your certification in writing.