The National Evaluation Series (NES) of tests is an innovative approach in providing entry-level teacher certification. The National Evaluation Series is provided through the Pearson Education group and designed with extensive feedback by respected educators in the country.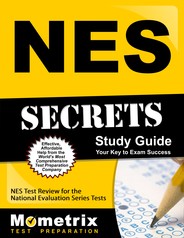 Prepare with our NES Study Guide and Practice Questions. Print or eBook. Guaranteed to raise your score. Get started today!
These tests are based on a variety of subjects, from basic reading, writing, and math to technology literacy and English as a second language. The series of tests align to professionally accepted national standards.
Testing is computer based, which makes it convenient to sign up for a testing date and obtaining immediate results. From the NES Web site, a candidate can locate a testing center and check seating availability.
Testing is available around the year from Monday through Saturday with the exception of some holidays. Upon registering for an exam, candidates indicate a preferred way to get their test scores.
Score reports may be e-mailed for multiple-choice questions within two weeks of testing if so indicated. For testing requiring constructed responses, score reports will be sent approximately four weeks after testing. Score reports as well as the testing history and test date, also are posted on the NES site for forty-five days for viewing, saving, or printing.
Score results also are sent to any institution and or state credentialing agency indicated upon registration.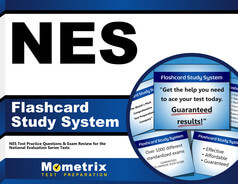 NES Flashcards. Proven NES test flashcards raise your score on the NES test. Guaranteed.
Special testing accommodations will be made for those individuals indicating that they need it, such as physical, learning, or cognitive disabilities. The NES Web site can help an individual understand the process of requesting extra time or requesting an alternative testing arrangement due to cognitive or learning disability.
The Web site also can provide answers to requesting alternative testing arrangements for persons with physical disabilities. Testing, registration, and scoring report policies are clearly detailed and described on the NES Web site, and an applicant has to acknowledge that he or she has reviewed and consented to these policies before registering for a test.
Free NES Practice Test Questions:
Proper identification is required, including a photograph and signature, to take the test. A valid form of ID would be a driver's license, passport, state ID from the DMV, military ID, or alien registration ID card. Credit cards, social security cards, student IDs, learner's permits, and ATM cards are not considered valid ID.
Without a proper ID for the test, the applicant will be denied admission to the test and forfeit the testing fee. A palm scan or digital photo may be required at the testing site; however, this does not fulfill fingerprint requirements for teacher certification by some states.
Should a candidate need to reschedule a testing date, time or center, he or she can do so conveniently without any extra testing fee as long as the reschedule is done at least twenty-four hours before the scheduled testing date. A full refund of the test fee is received if an applicant withdraws from registration at least twenty-four hours before the testing time; however if the applicant does not show up for the test, a refund will not be given.
Computerized data also helps to provide state benchmark performance and comparability state to state. Testing sites are located nationwide for in-state and out-of-state applicants. The NES offers numerous tests for academic and professional skills, elementary and middle school, and secondary education as well as foreign languages, gifted education, music, special education, school counseling, library science, and health.
Teacher certification varies by state, so it is important to contact the state for specific requirements. The NES Web site can help answer certification inquiries about what test to take and details of the actual test. There is also information on when and where tests can be taken, available preparation material, cost for the test, amount of time allowed, and number of questions.
The NES also offers resources for faculty members to help prepare educators for the test. These tools and supporting materials help faculty to mentor candidates through the teacher certification process by helping them interpret test results and understanding content. NES is proud of their customer service staff, who are responsive to educator needs and knowledgeable in state credentialing.
NES Study Guide
Explore our free NES review provided by Mometrix. Check out our premium NES study guide to take your studying to the next level. If you benefit from these materials, just click the link below!
To compliment our NES book, we also offer extensive NES flashcards for even more NES test prep help. We hope you enjoy our products! Your purchase helps us make more great, free NES certification content for test-takers just like yourself.
Self-Assessment Modules: