Are you a successful business owner? Do you desire to share your knowledge of the business world with the next generation?
The GACE Business Education Assessment is a test designed for individuals desiring to become business teachers, in the state of Georgia, at the secondary level. The assessment consists of 2 different tests, which may be taken individually or together on the same day.

Prepare with our GACE Business Education Study Guide and Practice Questions. Print or eBook. Guaranteed to raise your score. Get started today!
Both tests are computer-based in format, with 2.5 hours allotted to complete each one, including 30 minutes built it for computer tutorials. Each test is made up of 80 selected-response questions, such as matching, multiple choice and/or true-false questions.
Most tests also include some selected-response questions, which are not included in the actual test scoring, but are used to determine test-taker performance. Both tests evaluate basic business knowledge as well as the ability to apply these principles in real-world situations.
Test I is divided into 5 subparts: Business Law, which is worth 20% of the total score, Communication, which is worth 24% of the total score, Economics and Finance, which is worth 18% of the total score, Management, which is worth 21% of the total score and Financial Analysis, which is worth 17% of the total score.
Test II is divided into 4 subparts: Customer Relations, which is worth 16% of the total score, Entrepreneurship and Business Organization, which is worth 30% of the total test score, Information Technology, which is also worth 21% of the total test score and Programs and Professional Development, which is worth 33% of the total score.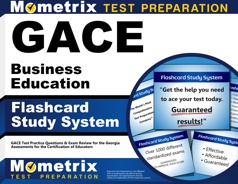 GACE Business Education Flashcards. Proven GACE Business Education test flashcards raise your score on the GACE Business Education test. Guaranteed.
Testing windows are offered months of October, February, April and June. Test results are available approximately 2 weeks after specific test dates.
Do you need help preparing for the GACE Business Education Assessment? No problem! There are several types of study materials available to use, such as interactive practice tests, tests at a glance (which give a quick overview of the tests), tutorials, videos, webinars and other strategies and tips.
The next generation needs examples of how to run a successful business – can you help?