Preparing for your upcoming GED test can be a difficult challenge. There are a lot of different options to use in preparing, including a GED Test Study Guide or a set of GED Test Flashcards that can be worked through. The important thing is to get a study aid that fits with your style of studying. You want to be prepared for the day of your test.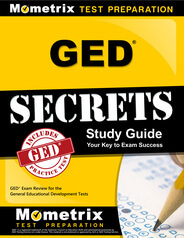 Prepare with our GED Study Guide and Practice Questions. Print or eBook. Guaranteed to raise your score. Get started today!
There are many civic and government programs in the United States which have come up short of achieving their goals for a variety of reasons.
Some have simply failed to deliver on their promises. Others have done some good, but far too little to justify the amount of money spent on them.
Still others have created more problems than they have solved. However, many programs have been successful, and one of the greatest success stories is the GED program.
GED technically stands for General Educational Development, although most people are more familiar with General Equivalency Diploma as the name (actually, either one is fine, and so is General Education Diploma).
Free GED Practice Tests
GED Overview
GED FAQ
Q
Is a GED the same as a high school diploma?
A
Not quite. Thought it is often accepted by employers as being equal to a diploma, it simply means that you have a high school level education, whether you completed high school or not. A diploma certifies that you have successfully graduated high school.
A
A GED is not a bad thing to have; most colleges will not care whether you have a diploma or GED as long as your SAT/ACT scores are good.
A
A GED is for certifying that a test-taker's education is equivalent to that of a high schooler's.
Q
How to get your GED online?
A
The GED cannot be taken online. It must be taken in person at a State testing facility.
Q
Is it really hard to get your GED?
A
A common remark from test-takers is that they did not feel like they had enough time to take the test, otherwise it is not too difficult. Preparing properly will help you improve your skills and help you ace the test.
Q
How much does it cost to get a GED?
A
The cost to get a GED varies by state. The prices range from $15-$300, with one state letting students take the test for free.
Q
What is on the math part of the GED test?
A
The math test is split into two parts, the first containing 5 basic arithmetic questions and the second containing 41 questions.
Q
How long will it take me to get my GED?
A
It usually takes 6-8 weeks for your GED to arrive by mail.
Q
Is the GED test multiple choice?
A
Each section of the GED contains multiple choice questions, but there are other types of questions as well.
Q
Can you take your GED test online at home?
A
No, your GED must be taken in person at a State testing facility.
Q
Can you take a GED test at home?
A
No, you cannot take the GED test at home. You must take the test in person at a State testing facility.
Q
Can you use a calculator on the GED test?
A
Yes, you can bring your own calculator to use on three sections of the test.
Q
What colleges will accept a GED?
A
Thousands of colleges, both online and campus-based, will accept a GED.
Q
What score do you need to pass the GED?
A
Each section of the GED is scored on a scale of 100-200. To pass the GED, you must earn 145 on each section of the test.
Q
Can you go to college without a GED?
A
Yes. Community colleges and some private colleges will require you to take placement tests if you do not have a GED or high school diploma.
Q
Do all colleges accept a GED?
A
Most colleges, especially community colleges, will accept a GED in place of a high school diploma.
About the GED
The GED program started back in the 1940s, and it was created to help ensure that veterans returning from war were able to become essential productive member of society, by entering the work force or going to college to get an education. Millions of young men (and thousands of young women) had gone off to war, and many of them had done so before they had earned a high school diploma.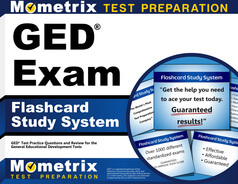 GED Flashcards. Proven GED test flashcards raise your score on the GED test. Guaranteed.
Without some way of quickly getting these people into school or work, the nation would have had major problems on its hands. In order to avoid this, educational experts created a group of tests which became the GED battery.
Passing these tests signified that a person had the same knowledge and skills as an average high school graduate in the areas of reading, writing, science, social studies and math. Taking numerous GED practice tests is recommended for test day success.
Not long after it began, the program was expanded to allow others to earn an equivalent to a high school diploma. These days, there are many different reasons for taking the GED. A person may be lacking a high school diploma because they were pregnant, they were having family problems, they were suffering from a serious illness, they were in jail, or simply because they dropped out because they found high school boring or too difficult.
Also, home schooled students often take the test as an alternative to a high school diploma. Since the GED program began, tens of millions of people have taken the tests, and some fifteen million have successfully passed and received their GED. In fact about five percent of current college student have a GED, not a high school diploma.
If all these millions of people have been able to pass it, and use it as a stepping stone for a new career, the odds are good that any motivated person can do the same. If you've been thinking about taking the GED, but have been putting it off, these facts and figures should give you the motivation you need.
GED Practice Test
Explore our free GED review provided by Mometrix. Check out our premium GED study guide to take your studying to the next level. If you benefit from these materials, just click the link below! To compliment our GED book, we also offer extensive GED flashcards for even more GED test prep help. We hope you enjoy our products! Your purchase helps us make more great, free GED certification content for test-takers just like yourself.
Self-Assessment Modules