The Massachusetts Comprehensive Assessment System (MCAS) was created to meet the requirements of the state's Education Reform Law of 1993. The MCAS tests English Language Arts, Mathematics, and Science and Technology/Engineering.
Students are required to pass the MCAS grade 10 tests in English Language Arts and Mathematics as well as a single science test. Local districts may choose to enact their own testing requirements before allowing a student to graduate. Students are given multiple opportunities to pass the tests needed for graduation. All students in grades 3 through 8 and in grade 10 are required to participate in the MCAS.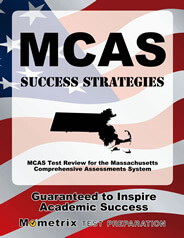 Prepare with our MCAS Study Guide and Practice Questions. Print or eBook. Guaranteed to raise your score. Get started today!
The English Language Arts (ELA) exam emphasizes both reading and writing skills through all grade levels. The Mathematics exam comprises five so-called "strands":
Number Sense and Operations
Patterns, Relations, and Functions
Data Analysis, Statistics, and Probability
Geometry
Measurement
The Science and Technology/Engineering exam comprises four strands: Chemistry, Biology, Technology and Engineering, and Introductory Physics.
All students in the state of Massachusetts who are educated with public funds are required to participate in MCAS testing. This includes, but is not limited to, those in public schools and charter schools, students who are enrolled in private schools but receive special education funded or partially funded by the state, and students in the custody of the Department of Social Services (DSS) or the Department of Youth Services (DYS). Unlike assessment programs in other states, home-schooled students are not required nor entitled by law to participate in the MCAS. State law in Massachusetts establishes penalties for truancy as well as for "inducing unlawful absence of a minor from school."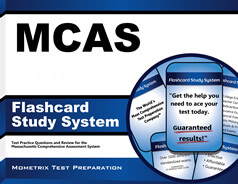 MCAS Flashcards. Proven MCAS test flashcards raise your score on the MCAS test. Guaranteed.
Also unlike testing in many other states, there are a variety of question types included on the MCAS tests. Question types utilized include multiple choice, short answer, short response, open response, and writing prompts. Multiple-choice and open-response questions are included on all tests except the Composition test. Short-answer questions are only included on mathematics questions. Short-response questions are only included on the grade 3 ELA test. Writing prompts are only included on Composition tests.
There are four different performance levels that have been defined by the Board of Elementary and Secondary Education, including Advanced (scaled range from 260 to 280), Proficient (scaled range from 240 to 258), Needs Improvement (scaled range from 220 to 238), and Warning (for those in grades 3 through 8) or Failing (for those in high school), which is for those with a scaled range from 220 to 218.
Students, parents, and educators all benefit from the statewide assessments. On an individual level, the MCAS helps parents identify student progress over the years as well as weaknesses and gaps in a student's learning that can be addressed. On a district level, compiling data helps the district fine-tune curriculum in case it may not align completely with the statewide standards. For teachers, it can help identify students who may need additional support services that they have not been receiving.
The Massachusetts Department of Elementary and Secondary Education has a wide range of resources available on its website to help parents better prepare their children for the exams as well as to provide background information about the exam and make the testing process transparent for everyone involved. For example approximately 50 percent of common test items in grades 3 through 8 are released each year, allowing parents a wide pool of former actual questions to use for preparation purposes. The state also provides information about how new questions are developed for each exam. The development of new questions is actually a multi-year process, as the average timeline is two to three years for a single new question to be included as a common item in future exams.
Self-Assessment Modules