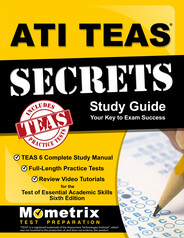 Prepare with our TEAS Study Guide and Practice Questions. Print or eBook. Guaranteed to raise your score. Get started today!
The Test of Essential Academic Skills™(ATI TEAS® 6) measures your knowledge and skills in the following areas:
English & Language Usage (such as grammar and punctuation)
Mathematics (Basic math skills and algebra)
Reading (Summarizing or interpreting text within a passage)
Science (sciences related to anatomy and life)
The ATI TEAS® 6 consists of four sections. All total, you are given 209 minutes to complete the test. The following infographic breaks each section down.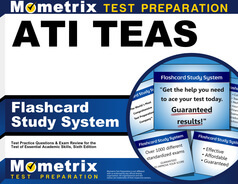 TEAS Flashcards. Proven TEAS test flashcards raise your score on the TEAS test. Guaranteed.
ATI TEAS® 6 Practice Tests
Back to TPR's Unofficial TEAS® Practice
Best ATI TEAS Test Version 6 (Quick Overview)!
*TEAS® and Test of Academic Skills™ are registered trademarks of Assessment Technologies Institute, which is unaffiliated, not a sponsor, or associated with TestPrepReview.com