Anyone hoping to teach school in the state of Washington must first pass one or more WEST exams. WEST, which stands for Washington Educator Skills Test, is a set of standardized tests designed to make sure that Washington teachers are qualified and competent. The WEST exams were created after the state legislature, in response to concerns about the quality of the state's schools, created the Professional Educator Standards Board (PESB). It is the PESB which actually designs the WEST exams.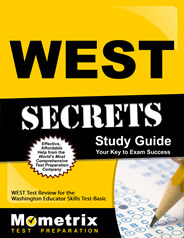 Prepare with our WEST Study Guide and Practice Questions. Print or eBook. Guaranteed to raise your score. Get started today!
The WEST comes in two forms. West-B (for Basic) tests for competency in reading, writing and math. Passing it is a requirement for anyone hoping to be admitted to an undergraduate or graduate level teacher education program. The purpose of the WEST-B is to keep people who don't have a minimum level of basic knowledge and skills from ever winding up leading a classroom. Not only is this good for schools, it's also a benefit to those who don't have what it takes to teach. Requiring a passing score on the test before enrolling in an education degree program, instead of after earning a degree, prevents countless people from wasting years preparing for a career for which they'll never qualify.
The WEST-E (for Endorsement) is a subject specific test. Prospective teachers must pass it prior to student teaching, in order to demonstrate their competence in a given field. There are currently three dozen of these WEST-E endorsement competencies, ranging from Agricultural Education to Visual Arts, and for various grade levels. The Bilingual Education and World Language tests also require taking an oral exam, from the American Council on the Teaching of Foreign Language (ACTFL)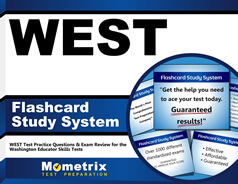 WEST Flashcards. Proven WEST test flashcards raise your score on the WEST test. Guaranteed.
The exams are not graded on a curve, but against a benchmark of required skills and knowledge. Scores can range from 100 to 300, and 240 is the minimum passing score. It's important to note that a person must score at least 240 on each of the three sections of the WEST-B; an average score of 240 will not suffice if any scores are below 240. This is also true of the Elementary Education and Middle Level Humanities WEST-E exams. However, if a person fails their test, or one of the subtests, they are allowed to retake the test after waiting 45 calendar days. If a person passes one or more subtests, while failing another one, it is not necessary to retake the entire test; the passing scores will stand, and the person will only need to retake the subtest or subtests they failed.
The exams are given several times per year, on Saturday mornings, at Pearson Professional Centers around the United States and US territories, and also in 30 other countries, including Mexico and Canada. Registration can be taken care of by mail, phone or internet. Most of the WEST exams can be taken on paper or over the computer, but there are several that can only be taken on a computer. There are several fees associated with the tests; a complete listing can be found on the official Washington Educator Skills Test website.
Free WEST Practice Test Questions
Free NES Practice Test Questions
WEST E Study Guide
Explore our free WEST E review provided by Mometrix. Check out our premium WEST E study guide to take your studying to the next level. If you benefit from these materials, just click the link below! To compliment our WEST E book, we also offer extensive flashcards for even more WEST E exam prep help. We hope you enjoy our products! Your purchase helps us make more great, free WEST E certification content for test-takers just like yourself.
West Test Self-Assessment Modules