Prepare for receiving your Bilingual Education teacher certification by taking the WEST-E Bilingual Education (050) practice test. The test consists of approximately 110 multiple choice questions.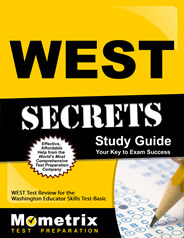 Prepare with our WEST Study Guide and Practice Questions. Print or eBook. Guaranteed to raise your score. Get started today!
To prepare for your test, it helps to read the test summary. This way you will have a better idea on how the test is structured and what kind of content to study for. Set up a formal study plan and brush up on strategies for successful test-taking. This is a multiple choice test, so be sure to read through all of the answers first, before making your final selection. Choose the best answer from all that are given. A good strategy is to eliminate all the answers that you know are incorrect. Your test score will be based upon the number of correct answers.
Here's the breakdown of the WEST-E Bilingual Education content that you can expect to find on your test. Prepare your studies for 20% of the questions to be in Language and Literacy Development. About 40% of the test questions will be on Development and Assessment of Biliteracy. The test will also include 20% of the questions on Cultural Foundations of Bilingual Education and 20% on Professional Leadership. The WEST-E Bilingual Education practice questions will help you prepare for each content area.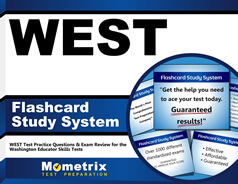 WEST Flashcards. Proven WEST test flashcards raise your score on the WEST test. Guaranteed.
You will have 2 hours and 15 minutes to complete the WEST-E Bilingual Education practice test. When taking your test, listen to the directions carefully and follow them. Don't skim past test directions, so you don't miss an important instruction. Pace your work according to the time limit. The test is designed to give you ample time to complete the test without rushing. If you have time leftover, go back and review any answers that you are uncertain of. If you study each content section of the test, you should do well.
When you reach a passing score of 240 in order to achieve your certification. As soon as you are finished taking your test, you will be able to see your results. The score report will be released in 2-6 weeks after you take your test.