The state of Washington offers the WEST (Washington Educator Skills Test) to measure the knowledge of subject matter for teaching candidates in each field. All WEST-E examinations are fully aligned with the state's teacher endorsement competencies. Competency areas also pertain to the Essential Academic Learning Requirements, as applicable.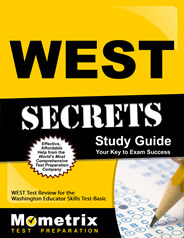 Prepare with our WEST Study Guide and Practice Questions. Print or eBook. Guaranteed to raise your score. Get started today!
Teacher candidates that wish to teach History will need to take the WEST-E History Test #027. An overall passing score of 240 will qualify you for certification to teach History. You will need to study for your test, so you set up a study schedule that allows plenty of study time before your test.
Consider asking other History test-takers to form a study group and join you for practice. Use the WEST-E History practice questions as one of your study tools. Pull out your old college text books and brush up on your skills and knowledge. The WEST-E History Test #027 practice test will give you a good idea if you are ready to register for your exam.
The WEST-E History test is a computer-based test with approximately 110 multiple-choice questions. Plan your studies for about 36% of your test to cover U.S. History. This includes the major developments, political, economic, and social history from 1791 to the present. You should also know the major events, individuals, themes, and developments in Washington State history.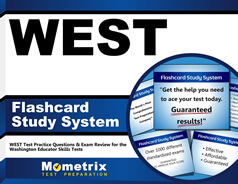 WEST Flashcards. Proven WEST test flashcards raise your score on the WEST test. Guaranteed.
About 36% of your test is on World History. This section covers the development of major world civilizations from 8000 BCE to 600 CE, major developments from 600 to 1600 CE, the Era of Global Expansion and Encounter, the Age of Revolutions, and the modern era. About 28% of your test will cover Social Studies Concepts and Skills.
These questions will focus on social studies terms, concepts, and perspectives. It also covers how to locate social studies information, analyzing and interpreting social studies information, applying critical reasoning to evaluate social studies data, and communicating and deliberating with others. Take the WEST-E History practice test to adequately assess the depth of your knowledge in these subject areas. You will have 2 hours and 15 minutes to take your test. Take your time and don't rush through it. Read through all answers, eliminating obvious wrong choices before making your final selection. You will be able to check your test score when your test is completed.