Prospective teachers who want to teach the subject matter of Library Media will need to be certified in the state of Washington to teach this class. To ensure that you have mastered the subject competencies and are truly ready to teach students, you are required to take the WEST-E Library Media Test #042. The WEST-E tests are fully aligned with the state's teacher endorsement competencies.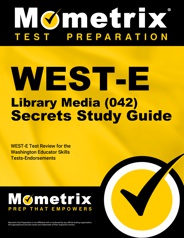 To do well on your test, it is important to understand the test format. There will be approximately 110 questions on your Library Media test. The WEST-E Library Media Test #042 practice test will help prepare you for your certification exam.
Your test will cover four domains of subject matter. About 23% of your test covers The Teacher Librarian and 31% of the questions cover Promoting Information Literacy Skills. There will be another 23% of questions on Managing the Library Media Collection and another 23% of questions on Administering the Library Media Program. You will want to do your best on the test, so it will be to your benefit to use the WEST-E Library Media practice questions as a tool to help you study.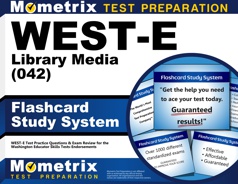 The WEST-E Library Media Test #042 is a computer-based test with a multiple-choice question format. Use the WEST-E Library Media practice test to help you study. It will have similar questions to those you will find on your test. Read through each question and all of the answers carefully. Dismiss all answers that are obviously incorrect and make your best guess at the correct answer. You should have more than enough time to complete the test.
If you have extra time, review any answers that you are unsure of. You will receive a score between 100 and 300 for each domain area on the test. To get your certification, you will need to get an overall score of 240. Your score will be formally reported within 2-6 weeks after taking your test, but you will be able to get your score and learn whether you passed immediately following completion of your test.