The WEST Music: Choral test is a computer-based assessment required of all candidates desiring to teach Choral Music in the state of Washington. Mometrix, the world's #1 test preparation company, has developed the WEST Music: Choral practice test to prepare you for success on this exam. You will have two hours and fifteen minutes to complete 110 multiple-choice questions.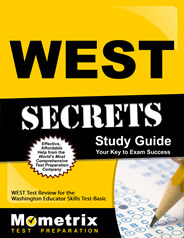 Prepare with our WEST Study Guide and Practice Questions. Print or eBook. Guaranteed to raise your score. Get started today!
The WEST Music: Choral exam consists of five content domains: Aural Skills (20%), Music Theory (20%), Music History and Culture (15%), Music Creation and Performance (30%), and Music and Other Disciplines (15%).
The Aural Skills domain tests proficiency in recognizing elements of harmony, melody, tempo, rhythm, dynamics, and timbre in recorded music. It also assesses your knowledge of various contexts of recorded music. You will be asked to identify characteristics, composers, genres, and instruments of music from various countries and time periods. You will also be asked to detect errors in a musical performance including error in rhythm, pitch, dynamics, articulation, phrasing, or balance.
In the Music Theory domain, you will be tested on your knowledge and application of music vocabulary and notation systems; melodic, harmonic, rhythmic and dynamic elements of music; characteristics and components of musical forms; compound musical form elements; and the relationship between lyrics and music.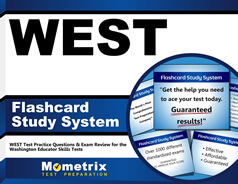 WEST Flashcards. Proven WEST test flashcards raise your score on the WEST test. Guaranteed.
The Music History and Culture domain will evaluate your knowledge of Western music from various historical periods (tenth century to the present). Your knowledge of folk, blues, jazz, and popular music of the United States will be tested including characteristics of various genres of music, composers, performers, and the way that music reflects the history and culture of the United States. Within this domain of questions, you will also need to recognize characteristics, composers, genres of music, and instruments used in non-Western music from diverse cultures.
The largest content domain is Music Creation and Performance (30%) which will evaluate your skills in music composition, music improvisation, music arrangement, instrument accompaniment, vocal sound analysis and production, vocal rehearsal methods, repertoire selection, and conducting techniques.
Finally, questions in the Music and Other Disciplines domain will address how music is used to express feelings and ideas, audience responses to music, how music complements other performing arts, and how music education enhances overall success in academics and non-academic areas of life. This section will also include questions on various musical careers.
The WEST Music: Choral practice test developed by Mometrix covers the same content as the actual test and can help you achieve success on your path to becoming a Choral Music teacher.